BWCA - September 2009
Page 2: Days 1-3
Travel day: Sept. 8 - Oregon, Wis. to Ely, Minn.
Happy birthday to me! Turning 60? Naaah, can't be. I don't feel any older than I did yesterday. I explore the reasons for doing a big solo adventure and conclude it's my essential youthfulness and natural vigor combined with a pathological fear of aging.
After the usual eight-hour drive from southern Wisconsin, I arrive at Voyageur North Outfitters in Ely and check into the bunkhouse, which I have all to myself. Apparently it rains hard overnight but I don't notice. I don't get another good night's sleep for several days.
Day 1, Sept. 9: Lake One to Lake Three
Map (opens in a new window)
I roll in to Kawishiwi Lodge at about 8:00 to get my permit from Frank Udovich, the proprietor. He's waiting for me, and after a nice chat we arrange for him to drop my car off at the Snowbank parking lot (Entry Point 27). I decide to get a copy of Frank's custom map of the Lake One - Snowbank area. Frank mentions he's heard about bear activity near the campsites on the big peninsula and nearby island at Disappointment Lake. This is very relevant, since I planned to camp on the island. In the Snowbank parking lot next week I talk with a group that camped on that island and didn't encounter evidence of bears, but I'm still happy to have stayed elsewhere.
Frank also tells me that Wilder Creek is impassable due to low water. Scotch that part of the plan.
I head into Lake One from the Kawishiwi Lodge dock at 9:15 under a grey sky. I look forward to using the Prism again to see how the improvements work.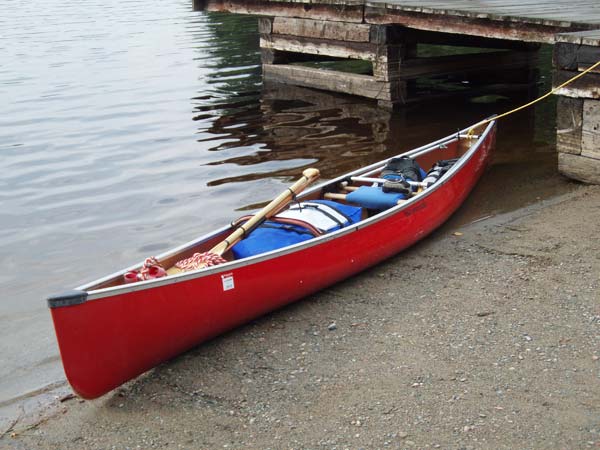 Note: all the pictures in this report were adjusted only slightly, if at all, in Photoshop.
The sky serves up clouds, intermittent light rain, and little or no wind. My rain jacket goes on and off until the sun starts peeking out in the late morning. The rest of the trip is dry, sunny, and only slightly breezy, except for one windy day next week. The area seems deserted, with only two or three groups at the Lakes One and Two portages.
I name the southern end of Lake Three "Lake Confusion II" because I get turned around in its maze of small islands, marsh, channels and dead ends. After 10-15 minutes I finally get straightened out and at 12:30 I finally arrive at the island campsite across from the portage to Horseshoe Lake. I had heard this was a nice site but I'm not impressed. It's like a rumpled bedspread with rocks and roots all over the place. It does, however, have a level tent pad, a nice view and good access.
The evenings on this trip were memorable for both their beauty and the general lack of bugs. These are from my first night on Lake Three.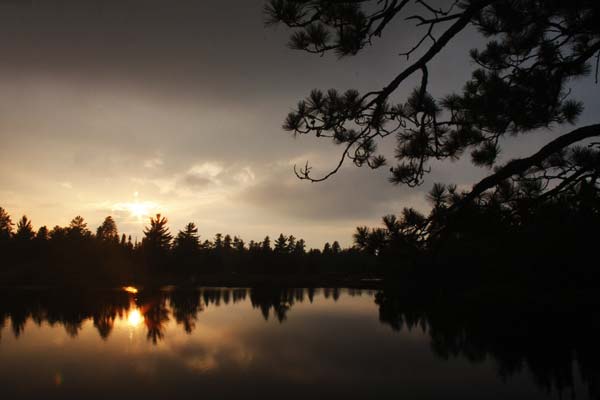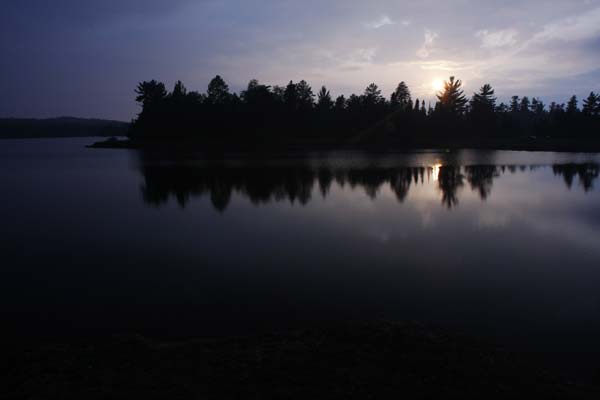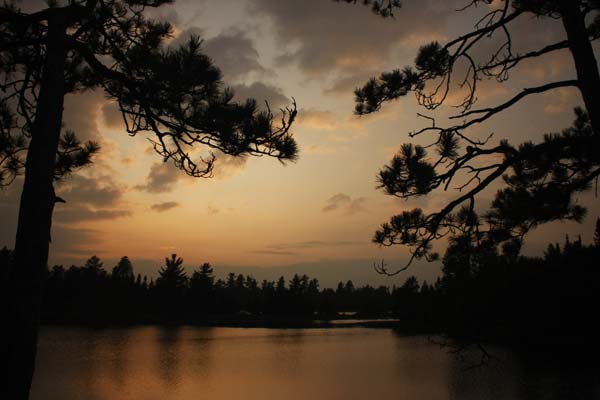 Here are today's statistics, with all portages being double carries:
Distance 7 miles
Total time 3:15
Paddling time 2:30
Portaging time 0:45
Two portages of 70 rods:
1. Lake One to the pond leading to Lake Two: 30 rods, 20 minutes
2. Pond to Lake Two: 40 rods, 25 minutes
Tomorrow: Hike the Powwow Trail from the Horseshoe Lake portage south to Rock of Ages Lake.
Day 2, Sept. 10: Lake Three
I wake up to heavy fog that lingers until almost noon.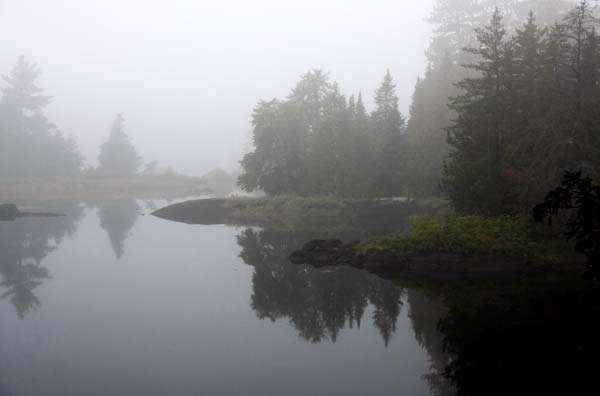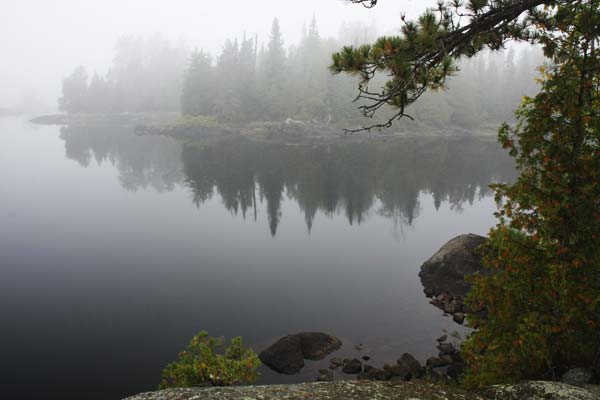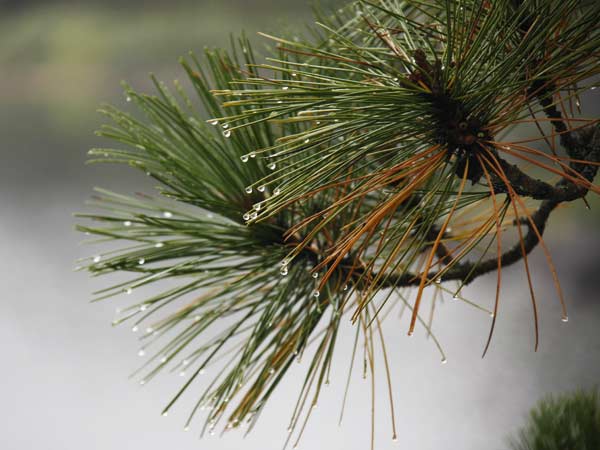 The fog eventually lifts and the day grows sunny and warm.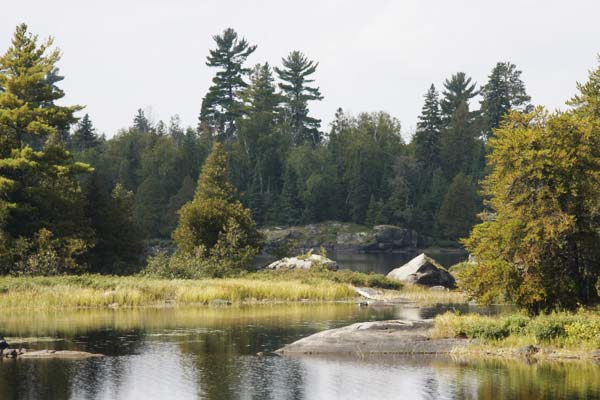 I didn't bring the Coleman stove, planning to make bannock every other day over a fire. It works, but this morning's batch takes a long time (45 minutes) because the pan is up high on the fire grate and the fire is too small to reach it. When that little experiment is over I paddle the hundred yards or so to the Horseshoe Lake portage to gain access to the PowWow Trail. At the portage landing I'm greeted by a most interesting critter. The interest was purely one-sided, however, as the only recognition the snapper gives is to move aside when it bumps into the bow of the boat on its way to the water.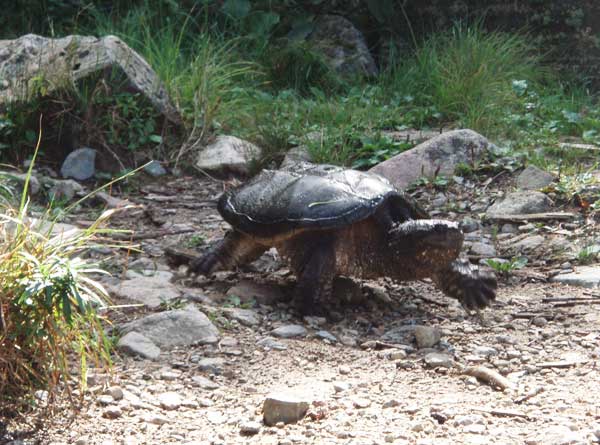 I'd estimate the carapace at about 12-15 inches long.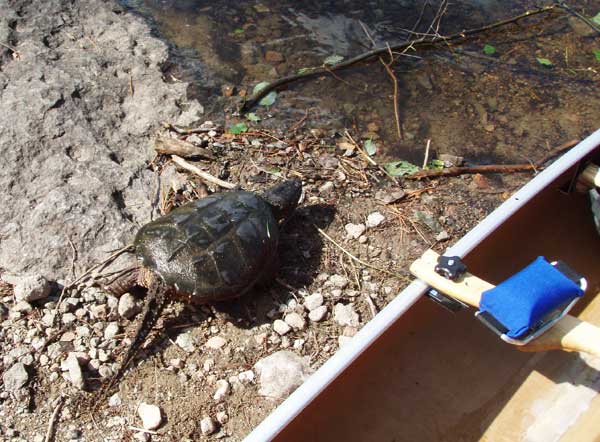 The trail is quite rugged, and the hike to Rock of Ages Lake is challenging. I have to keep it slow to navigate the hilly, twisty, rocky, rooty trail. In places the trail goes straight up. I imagine portages like this and am glad the ones on this trip are tamer.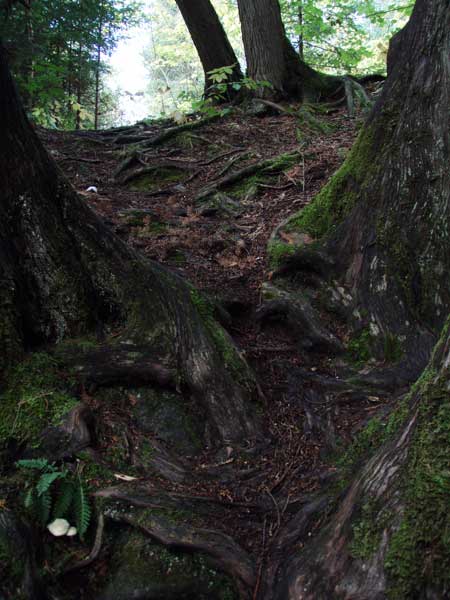 There's a pretty little stream on the way.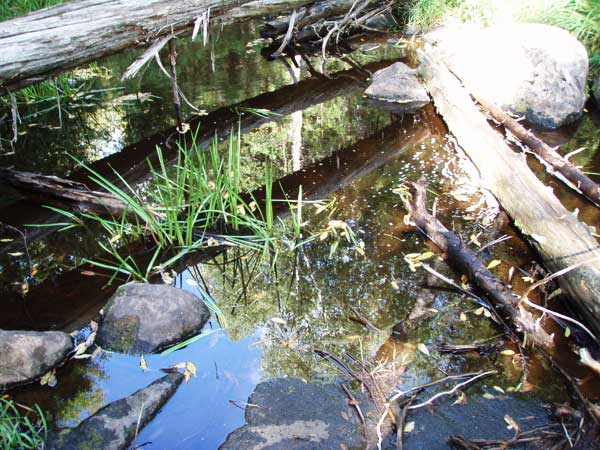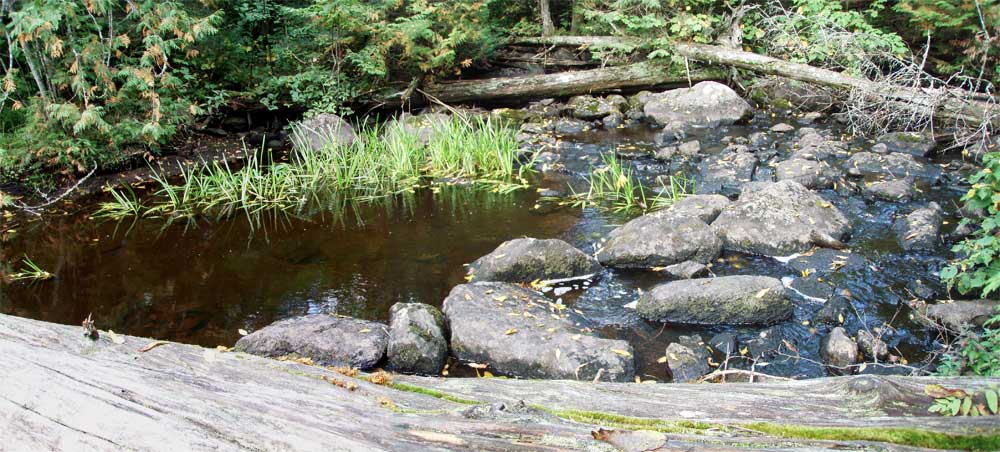 It takes a sweaty hour to hike the 1.75 miles to Rock of Ages Lake and I'm rewarded with a nice vista. Being at the end of a natural wind tunnel it's quite breezy, and I dry off and cool down quickly. (The ripples aren't really going in different directions; it's just a perspective shift due to taking several pictures from the same location.)

Back in camp the asters are in bloom, providing bees with some of the only nectar left at this time of year.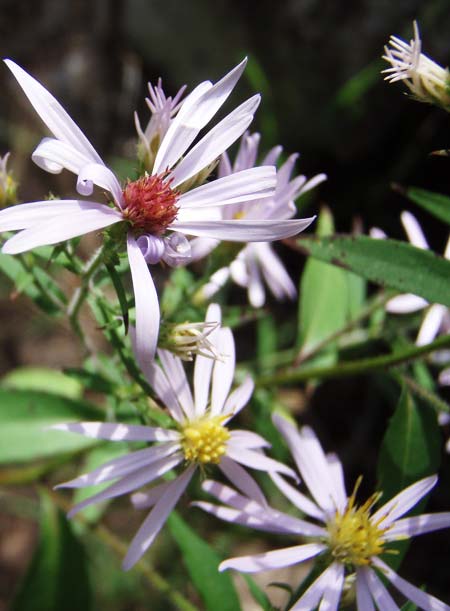 The view from the campsite was OK.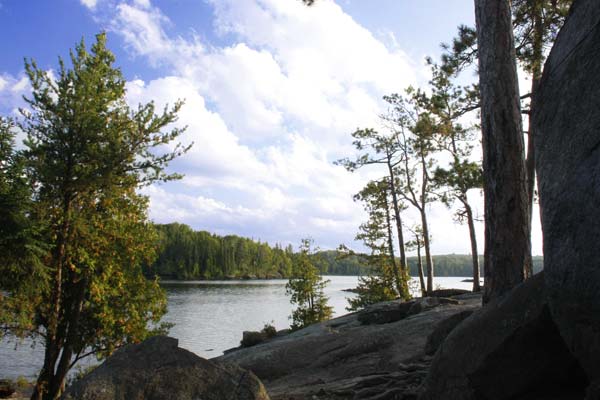 Another sunset: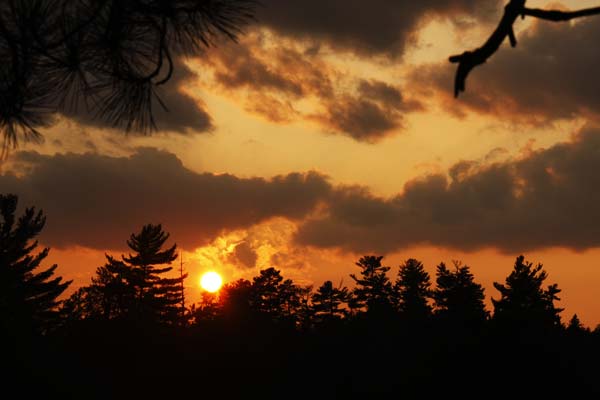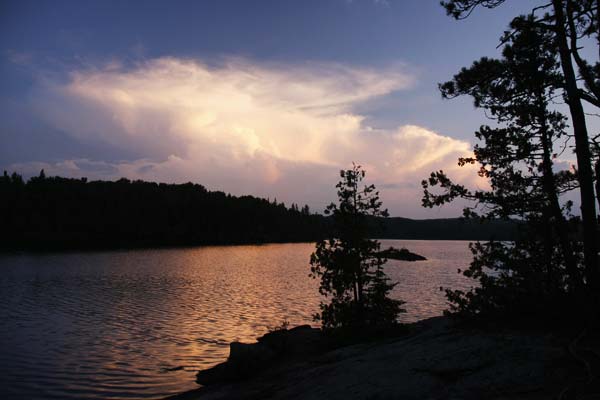 Tonight's dinner of Wild Rice Pilaf with Poultry Leather teaches me that the dehydrated chicken must be soaked for at least several hours before eating.
This evening I note that at least seven birch trees have been stripped of several feet of bark, and find some wedged between rocks near the fire area. There are also two tent pads with beds of moss and spruce boughs. The moss didn't grow there, and the boughs have a lot of green on them. I can't find words to express my disgust at these things.
Tomorrow: Hike the PowWow Trail from the Horseshoe Lake portage east to North Wilder Lake.
Day 3, Sept. 11: Lake Three
Today dawns clear and sunny but clouds over by 8:30. I don't sleep well, mostly because I can't turn onto my separated right shoulder, and I'm stiff and cranky. I get a better perspective when I realize how easy I have it compared to the native residents. I'm not the only one stretching well-used muscles.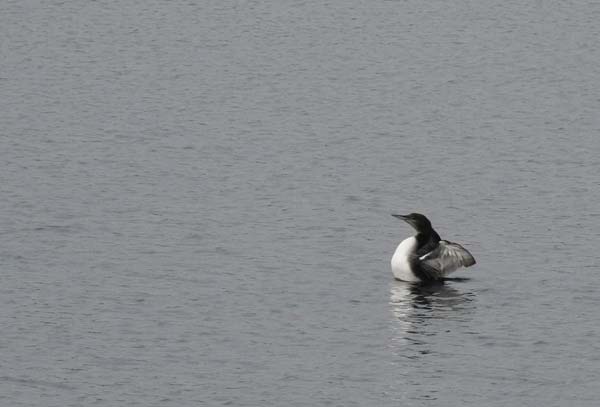 To get out of this morning's funk I walk - or rather climb - around the site trying to appreciate my surroundings. It helps. On a 5-point scale, I rate the site at 3-3.5. It has two or three tent pads, only one of which is level; access for loading and unloading is good; it's open to wind from the east, south and west; visibility to the south and west (for photographing sunsets) is good; and it has a spacious feel. On the down side, it's hard to get around without falling or twisting an ankle.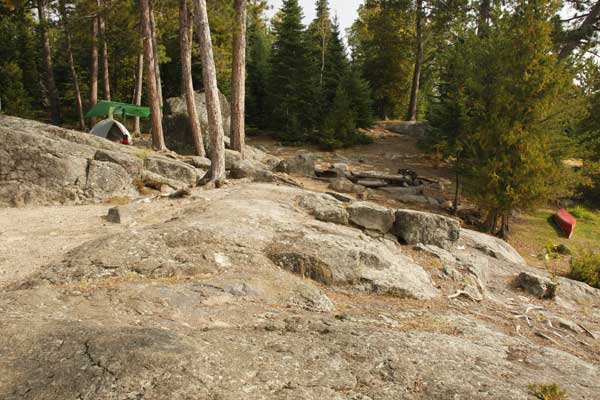 I make bannock again, this time building the fire up closer to the grate. It works better than the previous time, but the fire is hard to manage with access on only one side.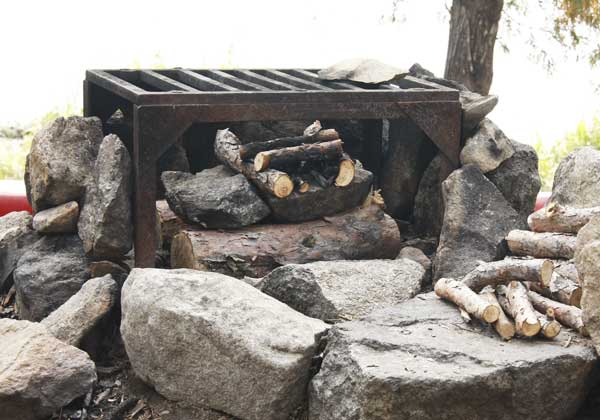 In the afternoon I take a walk on the PowWow Trail over to North Wilder Lake. Frank at Kawishiwi Lodge said hikers call the trail boring. I can see why, considering the need to watch the footing every step of the way. But it's pretty and the view of North Wilder is worth it.

This mushroom was about six inches tall.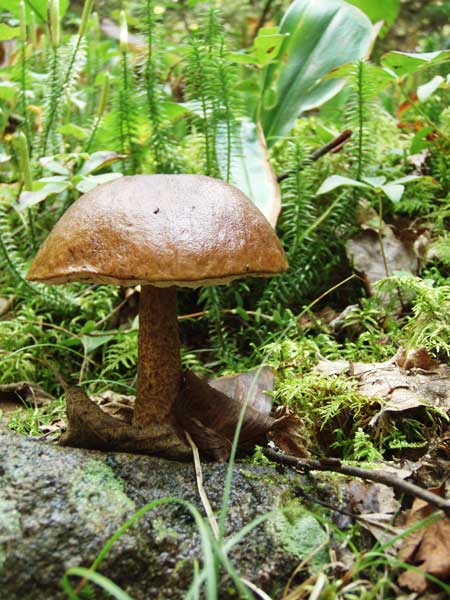 In the places where I look up at my surroundings I find the trail anything but boring. This is somewhere along Horseshoe Lake.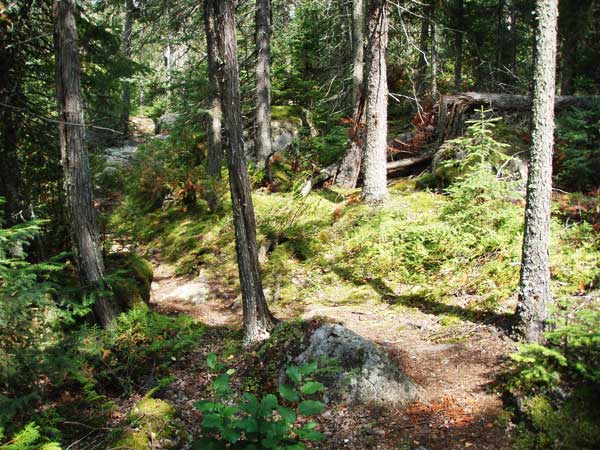 The trail offers several four- to six-foot sheer rock faces.
Back at camp I discover that one of the many root holes is an old garbage pit. The small can, with its bottom rusted out, held outboard motor oil, and the large one is labeled "100% Pure Pennsylvania Motor Oil." This little trash heap recalls the days when Amoco was known as Standard, and Montgomery Ward (the name on the big can) sold automotive supplies. Unfortunately, it isn't the anachronism one might wish.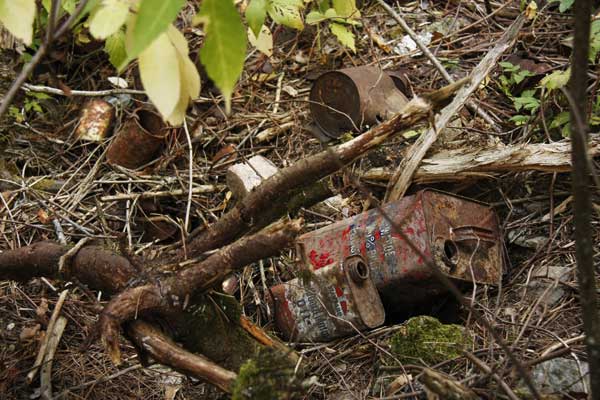 This evening I ignore the photo ops in favor of checking in with myself. I see how a steady program of doing has kept me from being present. I briefly consider bailing out in the face of the challenge ahead, and then a loon calls, and for the first time in three days I really hear it. Something awakens inside, but it takes several more days to emerge.