BWCA - September 2010
Page 4: Days 9-10
Lake Four to North Kawishiwi River and out
Day 9: Wednesday, September 8
I awaken to a small voice inside saying, "Happy birthday to me!" I turn 61 today but keep it to myself. I'm still not sure about this aging business and throughout the day I contemplate the value of being in the real world (i.e., the BWCA) at this particular time. I spent my last birthday traveling to Ely, and I intend to spend the rest of my birthdays in the Boundary Waters or a similar setting until the time comes when my body no longer cooperates.
It takes forever to break camp and we finally head out at 9:45. It's overcast all day with a light to moderate wind from the north-northwest.
Today's destination is what I call Kawishiwi Junction, the area where the North and South Kawishiwi Rivers meet (or rather separate, considering the flow is westerly). Traveling through Lakes Three and Two is uneventful until we encounter a sleeper rock somewhere in Lake Two. The water is just turbulent enough that from my bow position I can't see below the surface. The boat is trimmed slightly bow-light, and we grind up onto the (thankfully) flat rock without bumping into it. My pride probably suffers more damage than the boat.
The small island in the channel between lakes Three and Two is passable only to the west; the water is so low that the east side channel is choked with rocks. Up in Lake One, for the second time in as many years I miss the channel leading to the northern end, and we head toward the northeast part of the lake. We really needed to get lost at least once on this trip.
Rounding the northern peninsula, we pass Kawishiwi Lodge and enter a narrow channel that captivates both of us. We agree it may be the most beautiful place we've seen so far. Noting what looks like a small beaver lodge on the shore, I speculate about whether the Forest Service makes an exemption to allow this area to be kept clear, since it's a major highway leading from the Lake One entry point.
Our first portage after passing the Lake One entry is a very rooty 18 rod up-and-over. It looks to me like an advertisement for wearing sturdy shoes with good ankle support.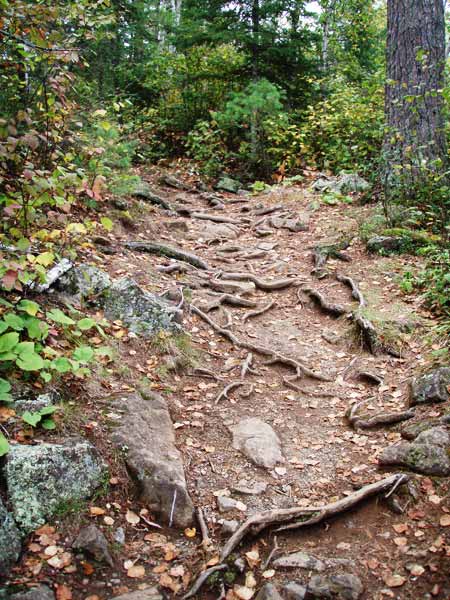 Shortly after this portage we encounter some small rapids. We negotiate most of them but have to line the boat through the last two or three rods' worth, which is very rocky and drops a foot or so.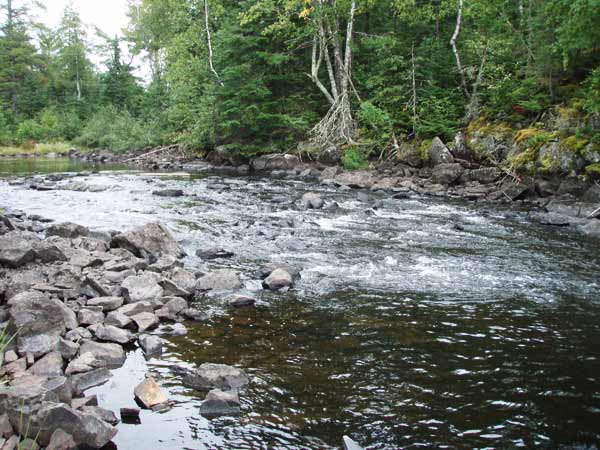 Next up after this bit of fun is a steep 30 rod up-and-over, where I'm glad I carry a folding trowel and a bit of TP in my daybag. This portage is followed by a 5 or 10 rod carry that has the worst pair of portage landings I've ever seen. The large approaches on each end are littered with a jumble of angular rocks than can be traversed only by stepping from the corner of one rock to another; there isn't a single flat rock to be found. It's short, so we carry the canoe end-for-end, which is safer in this setting than the standard shoulder carry.
From a distance the rocks don't look too bad.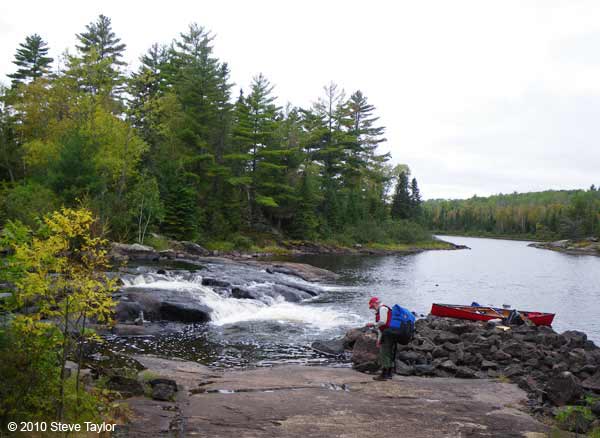 Up close it's another story.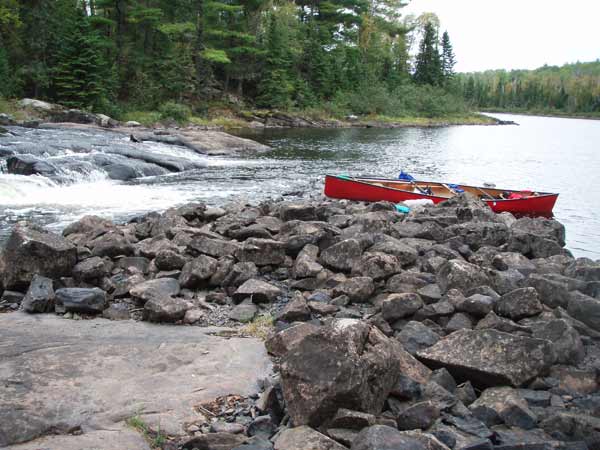 Continuing on, we pass three open campsites. I'm eager to stop at the next one, which is supposed to be a 4- or 5-star site, the first one in the group of three at Kawishiwi Junction. Considering that we've seen very few occupied sites during the entire trip, I feel confident that it will be open. We enter the channel that marks the beginning of the North Kawishiwi River, round a slight bend, and spot a wonderful site that happens to be ... occupied. I tell Steve it's OK, there are two more sites a short distance ahead, and we paddle hopefully on. We spot them easily and they look almost as nice as the one we just passed, but they, too, are occupied. I wonder out loud what the likelihood is of finding this group of sites occupied, after seeing hardly any for the past week. Gamely, I tell Steve there's supposed to be another nice site a little farther on, but I doubt I'm able to mask my disappointment. Steve suggests going back to one of the empty sites we've passed, but I insist on pressing ahead. The energy level in the boat is pretty low but we paddle on. We are rewarded with a fairly decent site that has a great view of a wide spot in the river, a couple of decent tent pads, and an open feeling. It's no. 9 (C1143) and is located near the portage to Conchu Lake.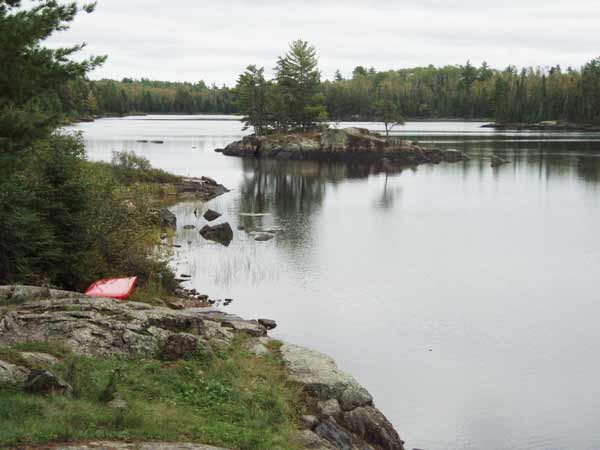 Dinner is Sweet Italian Sausage with Pasta (Hawk Vittles) with Italian fry bread. Dessert is Cache Lake chocolate pie, which is really just pudding with crumbled Oreo cookies. I tell Steve it's my birthday cake. He wishes he'd known so he could have given me something, but I tell him - most sincerely - that being here is quite enough, and a successful partner trip is all the gift I could ask for. Sounds hokey, I suppose, but it's true.
Steve's flight leaves Duluth at about 4:30 Friday afternoon. We calculate the time and realize that if we leave Friday morning we'll have to push to get there in time. So we decide to head back to Ely tomorrow.
The BW treats us to yet another beautiful sunset.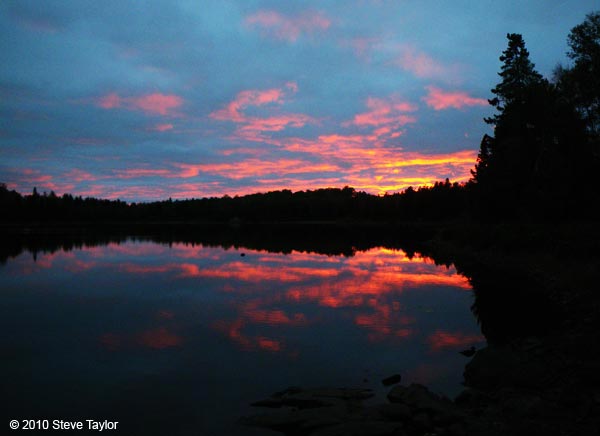 Day 9 summary:
Total distance 15 miles in 6:40
5 portages of 123 rods in 2:00
Day 10: Thursday, September 9
Once again, Steve is up early.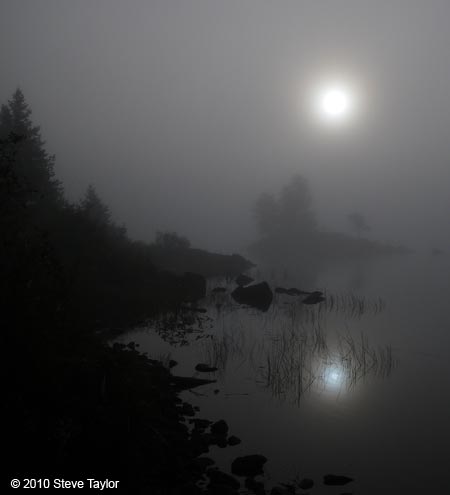 Today is a half-layover day. All we have to do is get back to Ely in time to get a room for the night. The morning fog and a heavy dew offer plenty of photo ops.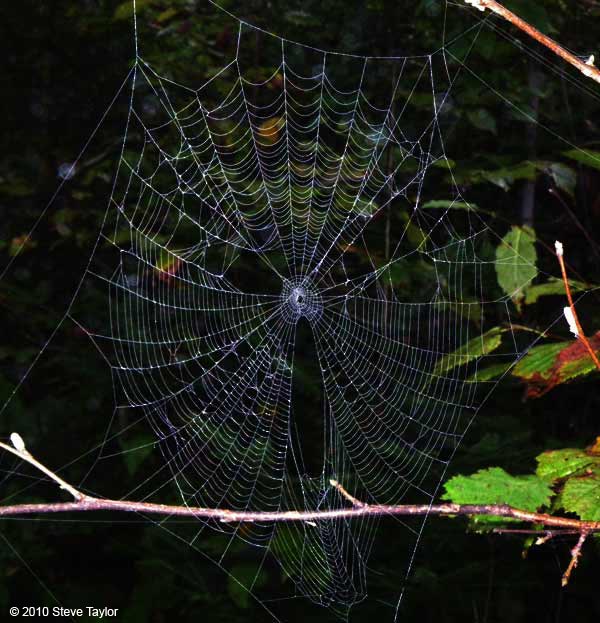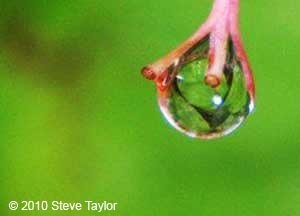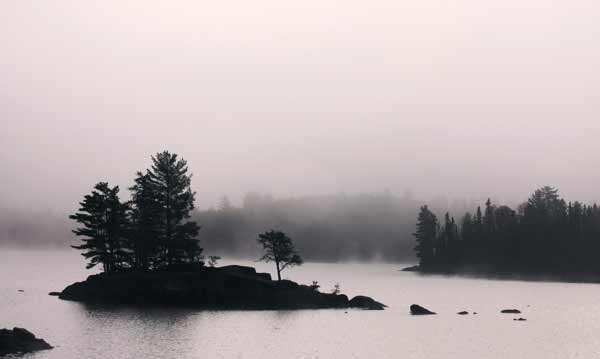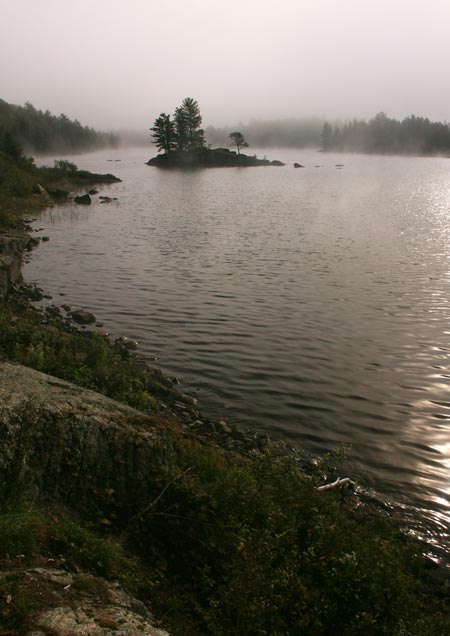 We take a walk to Conchu Lake and find a beautiful little bit of isolation. It's too bad the campsite is basically unusable. While checking out the area we find a few interesting subjects.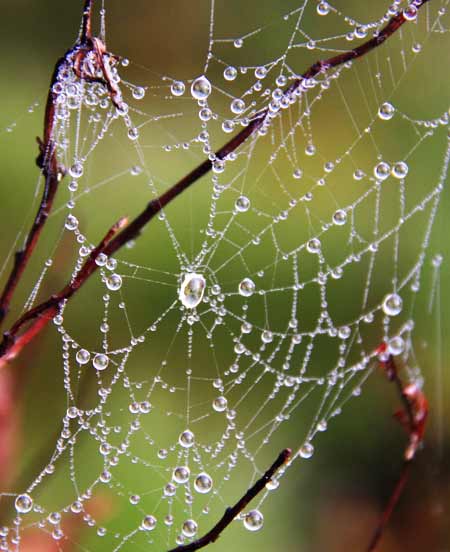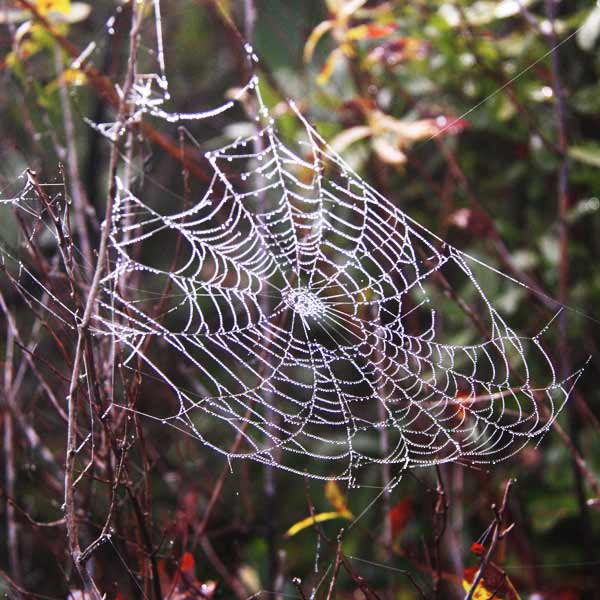 The fog eventually lifts and gives us a picture-perfect day.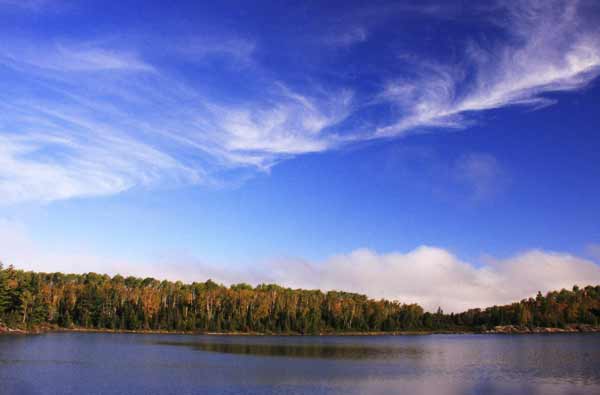 This trip log would not be complete without a shot of our constant companion, the red squirrel. In every campsite we were entertained by the antics of these little perpetual motion machines. They bite off pine cones, toss them to the ground, and then take them to some hidden place. It's hard to imagine how they keep themselves fueled, as active as they are.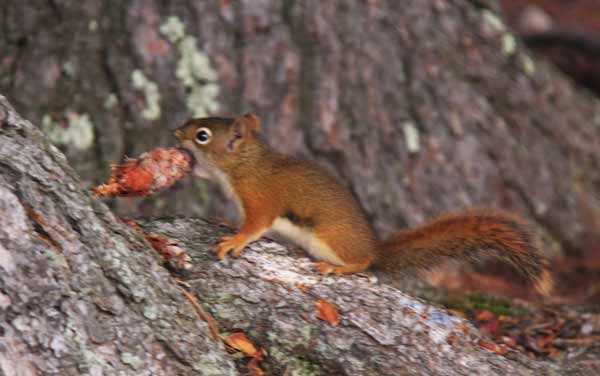 As we strike camp, a tandem team heads west on the Kawishiwi River. It seems like a fitting close to a challenging, yet utterly enjoyable and rewarding trip.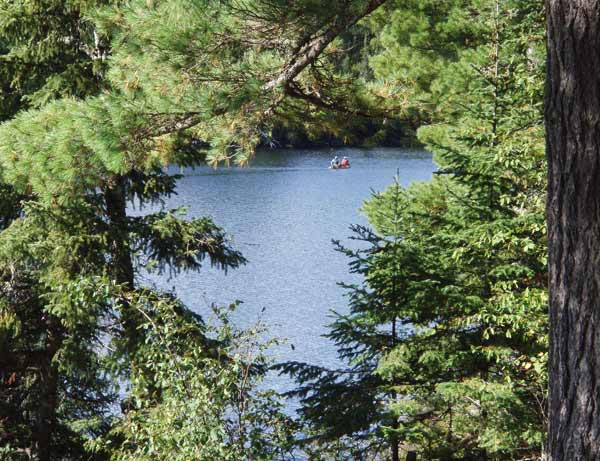 We retrace yesterday's steps and take out at Kawishiwi Lodge. Back in Ely, VNO has a room and Rockwood has good food (although the service is still spotty).
Day 10 summary:
Total distance 8 miles in 3:45
3 portages of 53 rods in 1:10
Post-Trip Activities
Day +1: Friday, September 10
Britton's is crowded for the first time in our three visits. The hubbub and comaraderie feels like a warm welcome to an old friend's hearth. We shop again at Piragis, Steve gets to the airport in time, and I proceed to Willow River State Park in Wisconsin for a campout with the folks on the BWCA.com forum.