BWCA - September 2011
Page 5: Days 7-8
Kawishiwi River to Ely
Day 7 – Tuesday, September 13 – Up the Kawishiwi River to Lake One
Plan A: Go to Lake One to maximize the chance of getting a good campsite sheltered from the NW wind, rather than be pressed for time tomorrow when Sandy arrives. I leave early in a light W wind, get to Kawishiwi Lodge, and learn I need a new plan. The Numbered Lakes are closed due to the fire, which is now estimated to cover about 60,000 acres.
The two guys camped on the site downriver, next to the 210-rod portage, leave about an hour before me.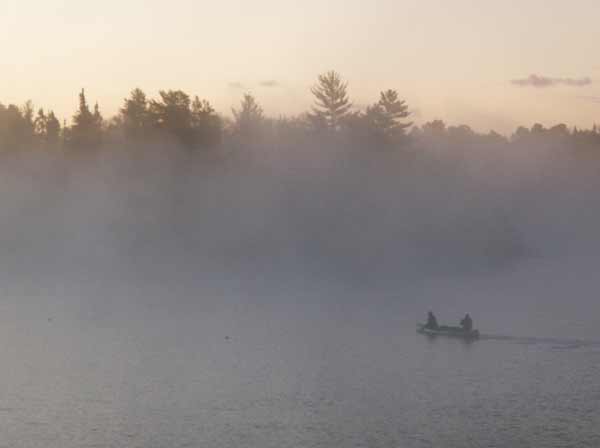 All during the trip I've been worrying about the 5- or 10-rod portage that skirts a small falls on the Kawishiwi River. I remember it from last year as having the worst footing of any portage I've seen; it was so bad that Steve and I carried the boat end-for-end because of the fear of falling. There are lots of good-size rocks all jumbled up in a way that requires the portager to hop from the corner of one rock to another. It was awful.
I finally get to it and when I scout it I see that it isn't as long as I thought, nor quite as treacherous, but still pretty tough. I take a look to the right to see if I can get through the waterway, and I see a two-foot high step-up ledge with flat rock beyond.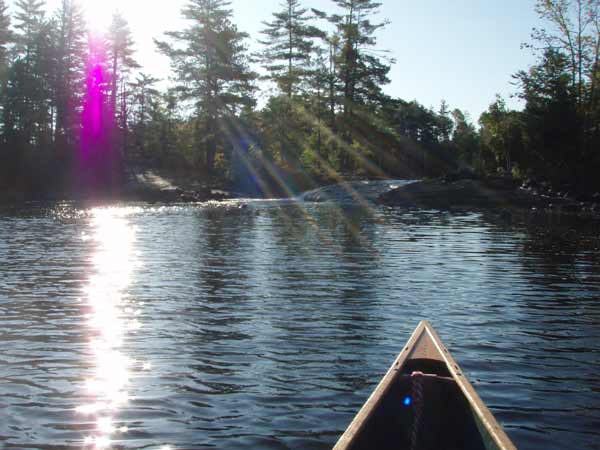 Yup, flat rock. As Grover says on Sesame Street, "I was so scared."

At the next portage, a 32-rod up-and-over, I catch up with the two guys who'd left ahead of me, and I leave the portage ahead of them.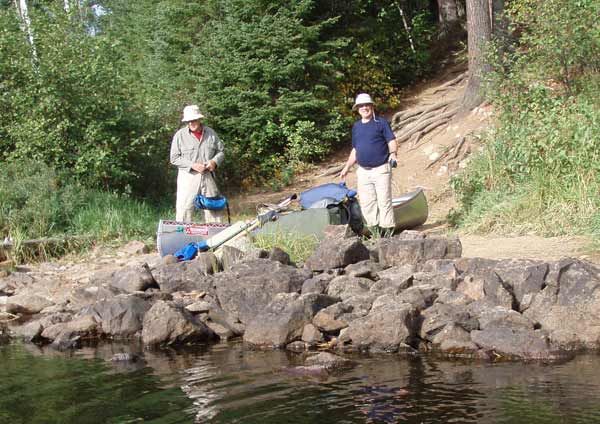 There's a nice little rapids that I lined the 18-foot Sundowner through last year. I figure a much smaller boat should be at least as easy. It is, even going upstream.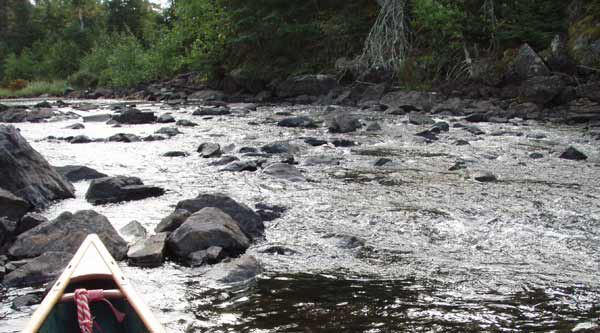 The scenic Kawishiwi River: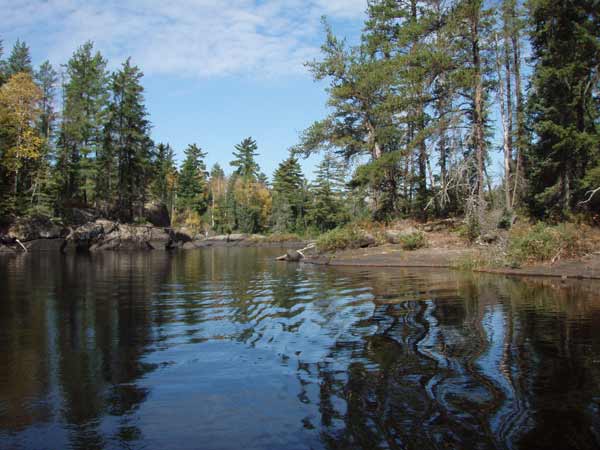 I get to the Lake One entry point parking lot and find it empty. I learn from Forest Service notices on the bulletin board just how extensive the fire is and how much of the BWCA is closed. I reach Kawishiwi Lodge about 11:30 and learn the Numbered Lakes are closed and all campers have been evacuated.
Plan B: Have Sandy change her permit to the Nina-Moose River (EP16) and continue the trip from there. The Forest Service is offering to exchange permits for those entry points closed because of the fire. This seems like a good plan, except that Sandy's supposed to get here some time in mid-afternoon tomorrow. There isn't time to organize gear, drive to EP16, paddle 5 miles, and set up camp before dark. I don't think this through completely, so when I talk with Sandy I have her get a permit for EP16.
I hang around Kawishiwi Lodge while a Forest Service employee talks about the fire, its scope, and the effort against it. It's a major fire and help is coming from other US states and Canada. (The fire eventually reaches 93,000 acres (145 sq. mi.), and the total effort involves about 850 personnel at a cost of $22.3 million.) It spread 16 miles to the east and south on Sunday. Almost all of the BWCA east of Moose Lake is closed and only a part of the Gunflint area is open. It hit the Isabella River area two days after I left Quadga Lake. That seems like a close call.
I feel very lucky to get a ride back to my car from Kawishiwi Lodge – 32 miles away at EP32. It would have been a long, tough 17-mile slog by water against a strong west wind, and more than a one-day trip. Frank Udovich, the Lodge owner, charges me his minimum, $60, for such a long shuttle, and I'm happy to pay it. I've dealt with Frank a number of times and as usual I find him helpful and friendly. The driver, Roger, is bright, thoughtful and articulate. I wish him and his family well in developing their small hobby farm into a full-time livelihood.
I get to Ely and check into a room at the Voyageur North bunkhouse. It's very strange to be in town yet in the middle of a trip. Tonight's dinner is a burrito and beer at Rockwood – good food and excellent service, a vast improvement over last year.
Day 7 summary:
Total distance 7.5 miles in 3:35
3 portages of 55 rods in 0:53
Day 8 – Wednesday, September 14 – Ely Layover
I hang out in Ely waiting for Sandy, who arrives in mid-afternoon with the Sundowner, her gear, and the rest of the food.
We talk about the situation with the folks at Voyageur North and finally come up with ...
Plan C: Get a permit for Fall Lake (EP24) for Thursday, mostly because it's the only EP open within about 20 miles that still has permits available.
We visit Piragis for the mandatory pre-trip shopping. I get a Bell bent shaft at Voyageur North to replace the broken Sawyer paddle, which I repair more properly after the trip. Dinner is something yummy at the Chocolate Moose. After organizing our stuff we end up with three relatively light packs. It's a little awkward bunking with a girl but somehow we manage.
The boats aren't housebroken so they have to stay outside.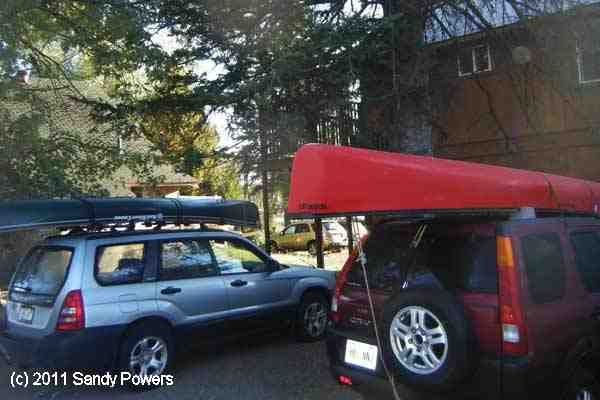 Tomorrow: Fall Lake to Basswood Lake