BWCA - September 2009
Page 6: Adieu
Day 10, Sept. 18: Disappointment Lake to Snowbank Lake
Map (opens in a new window)
I awaken to yet another beautiful day. I'm up at 6:00 and, with little if any wasted movement, somehow manage to leave shortly after 8:00. I may not be quick but I'm consistent.
Triple carrying, I make the five trips of the 140-rod portage to Snowbank in exactly one hour. Adding in the approach, unloading, reloading and heading back out, the total time is 1:15.
On one of the loaded trips I see a grouse strutting about, and as I get nearer he calmly walks into the woods. On the way back, he's there again. Maybe that part of the trail is his lek.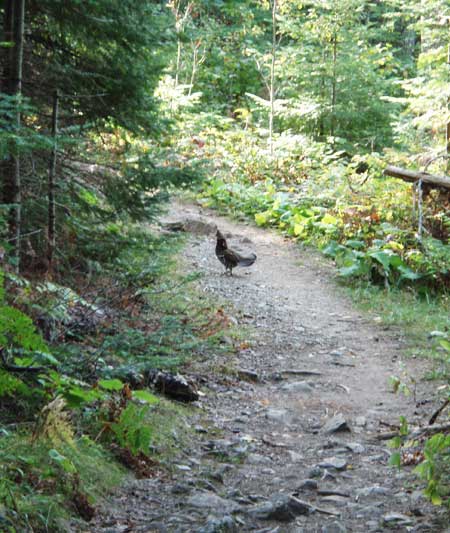 I get to the Snowbank Lake dock at 10:45. It's nice to have the car waiting for me there, but it looks strange and I half-wonder if I still know how to do civilized things. Mostly I do, but it's a weird world of roads and machines and buildings. I'm sort of wallowing around in my recent experience, knowing that I don't fully understand what I've been through but certain that I've grown in some way. I leave with mixed feelings of satisfaction for having had a good time, regret that it's over, and anticipation of the next trip.
I drive into Ely, park on the east end of town, and call home. While I'm on the phone I see an Army green jeep drive past several times. That doesn't seem unusual except that there's a .50-caliber machine gun mounted behind the front seats. The fact that the driver is not in uniform is somewhat less than reassuring. It sure is a strange world I've come back to.
Today's statistics:
Distance 3.5 miles
Total time 2:15
Paddling time one hour
Portaging time 1:15
One portage of 140 rods