BWCA - September 6-20, 2011
Page 7: Days 11-13
Basswood Lake and back to Fall Lake
Day 11 – Saturday, September 17 –Day Trip to Wheelbarrow Falls
I sleep well for a change. Although there's frost on the tents, it's about 45 degrees inside mine; perfect sleeping temperature. Sandy, as usual, is oblivious to the cold. I wonder if it's because her tent is smaller and easier to keep warm.
Toady we take a trip along the Basswood River, including the 340-rod portage (over a mile) that heads west toward Wheelbarrow Falls, a long cascade with many small drops.
We putter around camp in the morning and after lunch head out for Wheelbarrow Falls, taking the twisty 340-rod portage (over a mile) in stages. Sandy discovers that carrying a canoe is part muscle and part pain.
We meet a group of people from Alaska fishing along the Basswood River; some of them have a lot of Outward Bound experience while a few others are National Outdoor Leadership School (NOLS) employees. They clearly know what they're doing.
We consider going on to Lower Basswood Falls but it's getting late, and we want to take some time for pictures, so we leave the boat tied up at the beginning of the portage. The portage trail, which is lined on both sides with poison ivy, follows the river.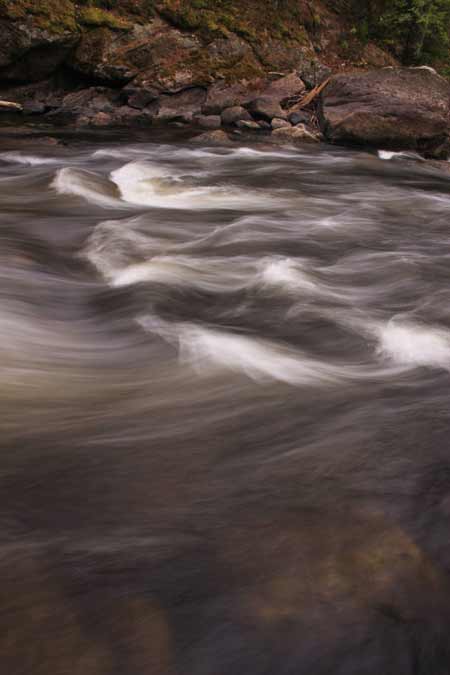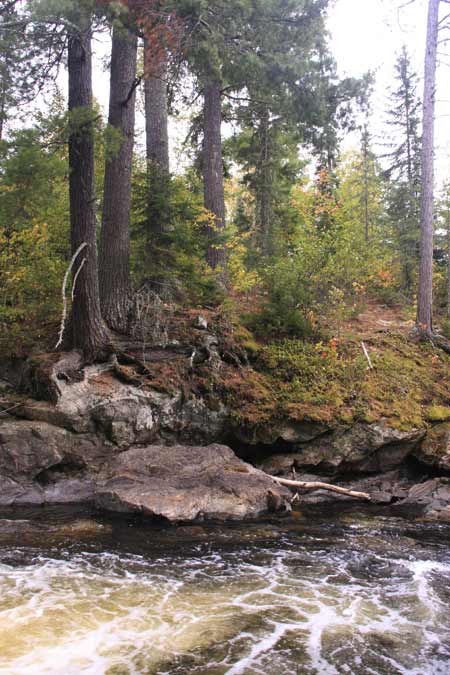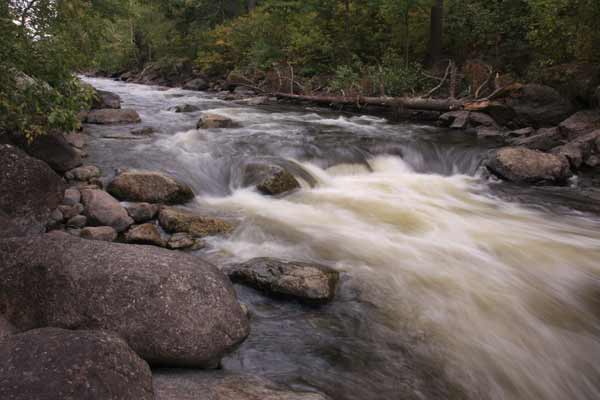 The end of the falls: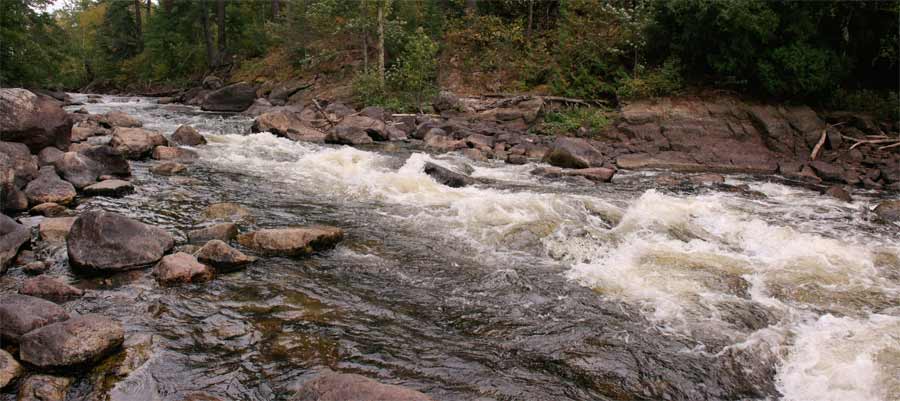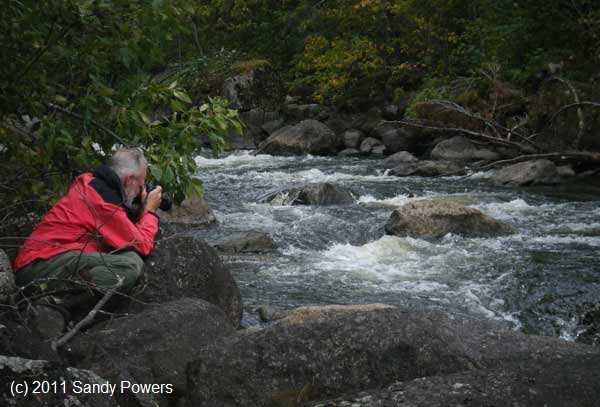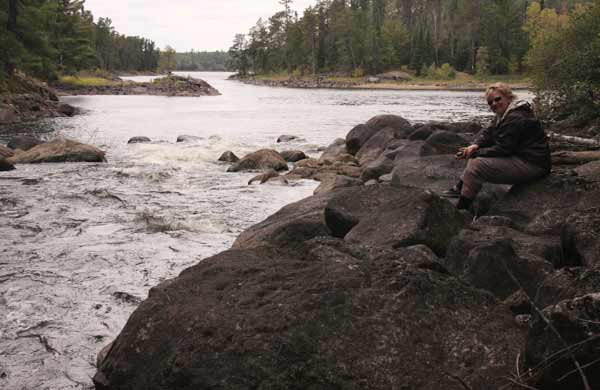 A little surprise awaits us when we get back to the boat.
"I thought we paddled up to this. Did someone pull the plug while we were gone?"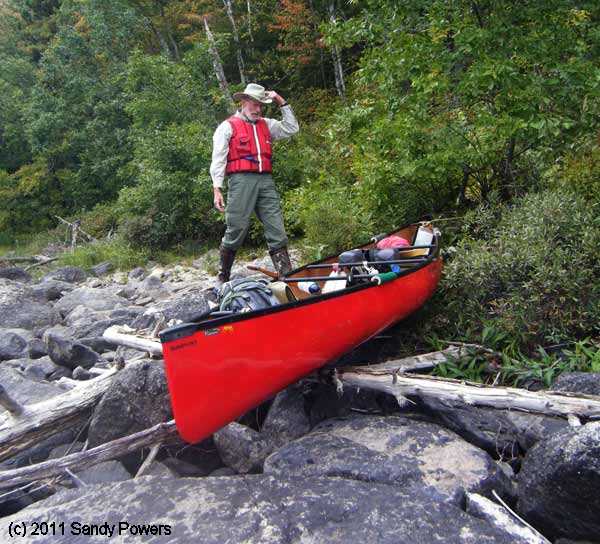 On the trip back we line the boat through several small rapids, thus avoiding a couple of portages. The last part of the long portage is about ¾ of a mile long and seems easier than on the way out. Since Sandy isn't impressed with canoe portaging and we agree she's better with packs, I wear the big red hat. I'm surprised at how easy it's become.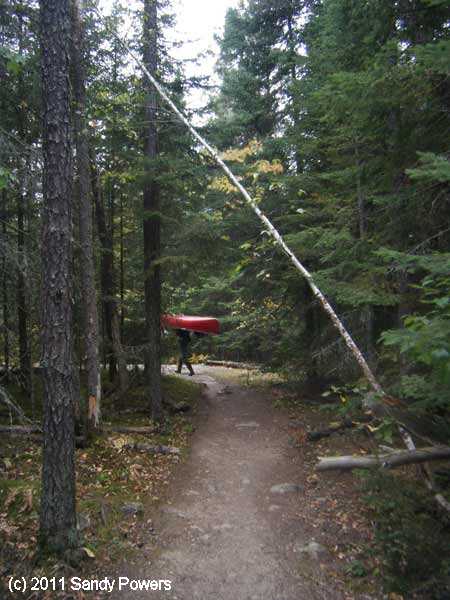 Dinner is Mountain House Pasta Primavera with rehydrated chicken. Note to self: don't dehydrate or freeze-dry chicken; it just doesn't rehydrate well. Get the pre-freeze-dried stuff through Mountain House.
At about dusk the campsite gets smoky, with some ash in the air. We suspect it's from a campfire at a site to the south, but there's much more than a small fire could produce. The wind is S-SE at 10-20, so it makes sense that it's from the Pagami Creek fire.
It's much warmer tonight. Tomorrow's forecast is for wind and rain so we set up tarps for the kitchen and the latrine. I sleep poorly again, this time due to being well-hydrated and too warm.
Day 12 – Sunday, September 18 – Basswood Lake Layover
Today's sunrise bears no hint of the weather that develops in the late morning.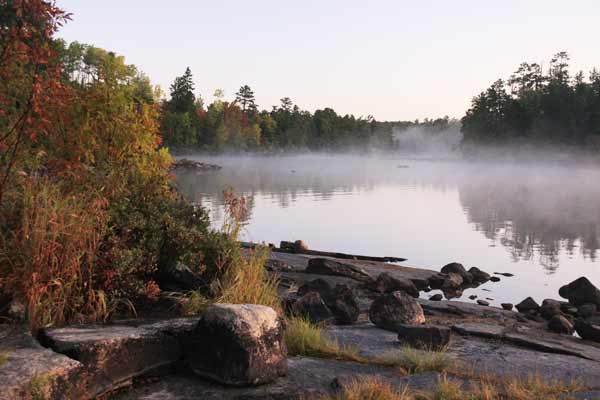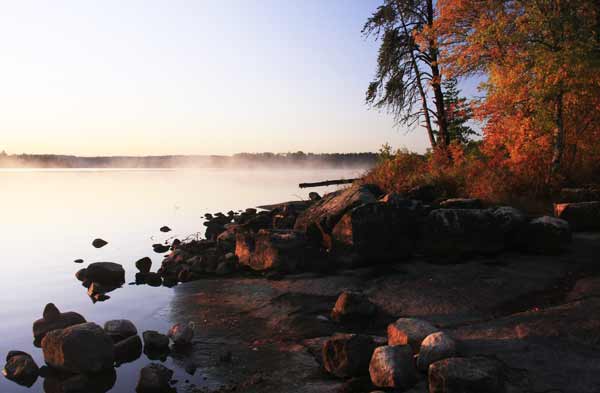 It's overcast, on-and-off windy, and occasionally rainy. The tarp, of course, receives many tweakings. There isn't much else to say about this layover day except that it's nice to be here, and it feels like a gift to be able to share it with someone who loves it as much as Sandy does.
The forecast is for clear weather tomorrow, followed by rain and stiff southerly winds on Tuesday and Wednesday. After some discussion we finally consider what kind of experience we want to have and decide it doesn't include beating ourselves up fighting a headwind. So we decide to leave tomorrow, cutting the trip short by two days but hopefully ending on a good note.
Day 13 – Monday, September 19 – Basswood Lake to Fall Lake
Today is everything the forecast predicted: warm and sunny with a gentle-to-moderate southerly wind. The wind isn't enough to affect us and the 14 miles to the Fall Lake landing is a very pleasant paddle.
The colors came out while we were there, thanks to a couple of cold nights.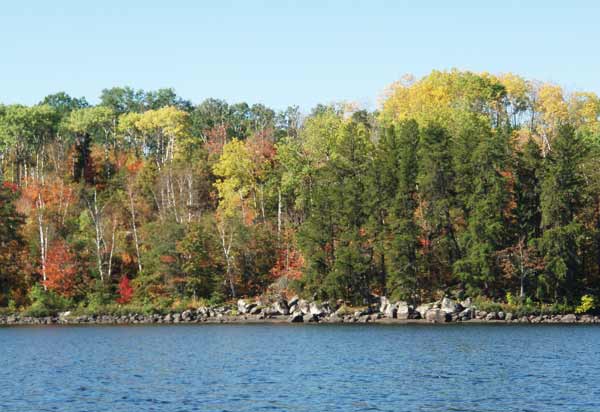 We stop for lunch and a few pics.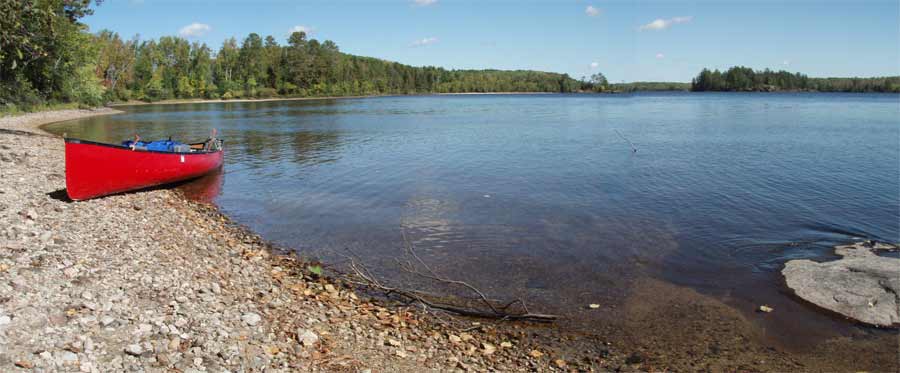 The end of the last portage: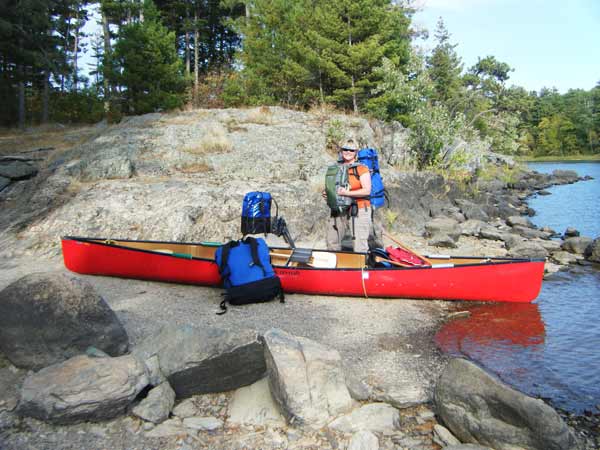 Day 13 summary:
Total distance 13.6 miles in 6:25
2 portages of 170 rods in 1:42
We load up the cars and head into Ely for showers, another good dinner, and one more night at the Voyageur North bunkhouse. On the way home I manage to get a fleeting picture (out the car window at about 35 mph) of a building on Highway 1 about 20 miles south of Ely on Highway 1.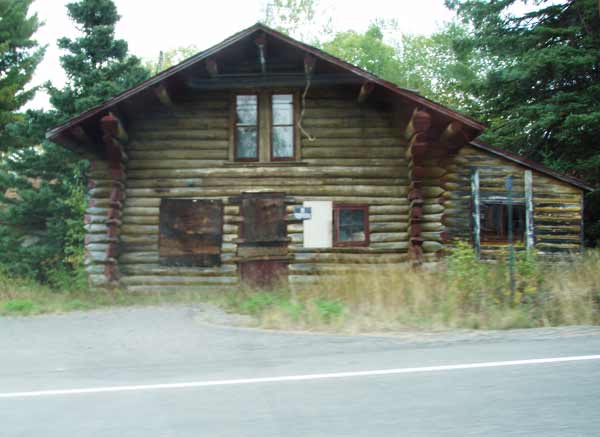 Next: Pagami Creek fire text and photos