BWCA - May 2012
Page 2: Days 1-4
Moose Lake to Melon Lake
Day 1 – Monday, May 21 – Travel
Breakfast at Britton's: I can't finish my second pancake so I take it along for lunch. Another good decision, since we don't have any bannock yet. It's good with jerky and trail mix.
We enter at Moose Lake under sunny and near-cloudless skies and a light tail wind.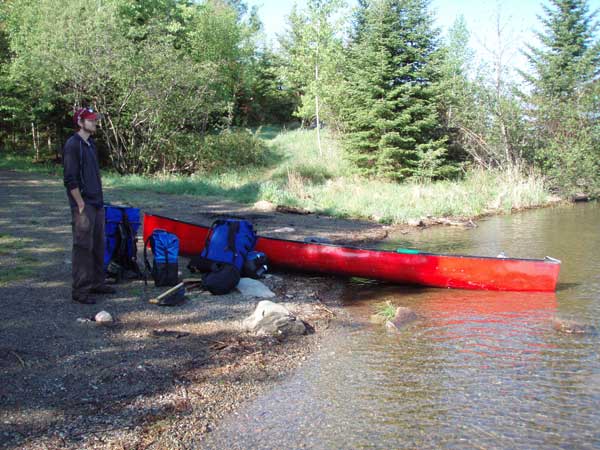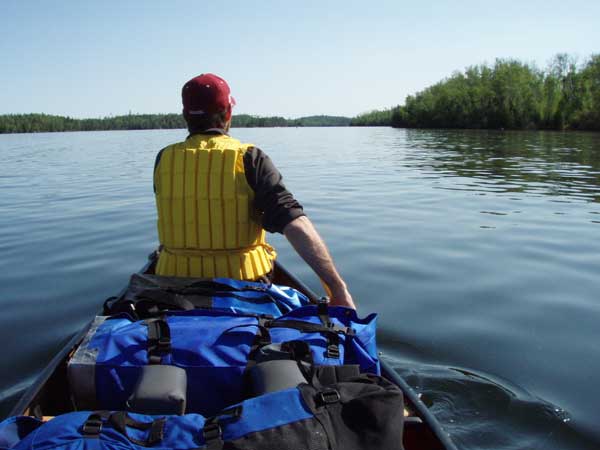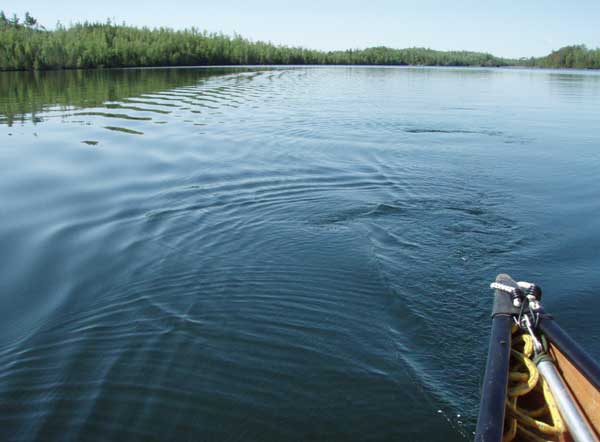 We have both bent paddles along so Arnie can choose which he prefers with his sprained thumb. Yet another good choice, since the Sawyer Kai paddle blade separates from the shaft after a couple of hours. This is the same paddle that I broke on the solo part of last September's trip.
It's a pleasant and uneventful 10 miles to the campsite on Melon (also called Carp) Lake (C1241). A campsite review at BWCA.com indicated it's a 4-star site but I give it two stars. It's a small site, up on a hill surrounded by trees so there's almost no view, and has two marginal tent pads and a tricky landing.
Lots of dragonflies are emerging from their skins.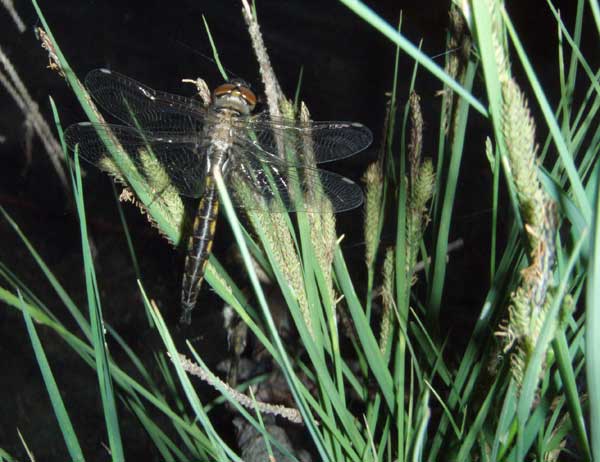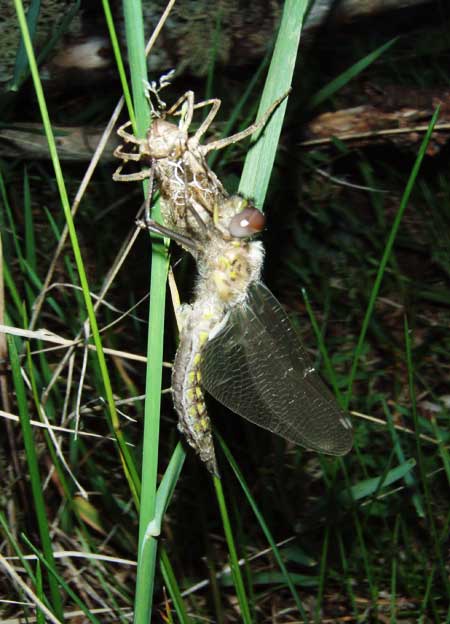 Dinner is Hawk Vittles' Moroccan Stew with bannock and a piece of orange chocolate for dessert.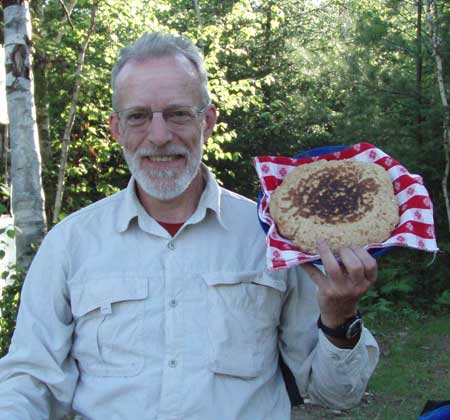 The wind comes up in the late evening.
Day 1 summary:
Total distance 10.1 miles in 4:00
2 portages of 51 rods in 0:33
Day 2 – Tuesday, May 22 – Rain
It rained last night.
We put up the tarp in light rain, which is contrary to the forecast. We dither over whether to go on or stay put, finally deciding to stay. There's a lull in the rain so we change our minds and start packing up. The rain starts in again and we decide to stay. Why leave just to find another site to sit out two more days of rain?
I tweak the tarp and move my tent, setting up a double "front porch" arrangement. We come to appreciate the dryness this offers.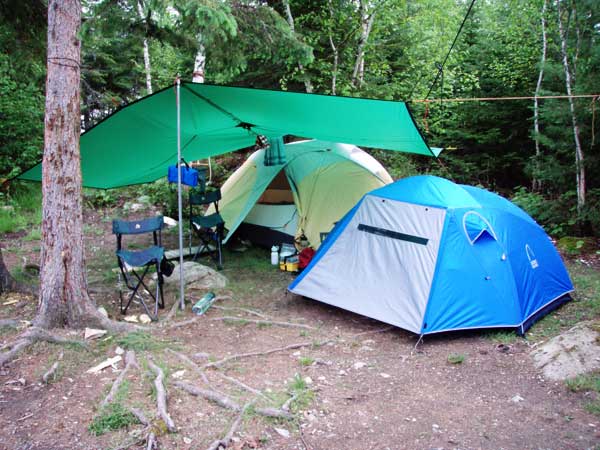 There's a lots of fruit here: straw-, goose-, service-, and thimbleberries, hazelnuts, black (or choke or pin) cherries, and probably blueberries as well. July must be a yummy month.
There are a lot of what look like black (or choke or pin) cherry flowers, but they have some kind of protrusion I've never seen. I later learn that it's the work of the chokecherry gall midge (Contarinia Virginianae). The adults lay their eggs in the flower and the larvae feed on the developing fruit. This insect also parasitizes serviceberries (saskatoons).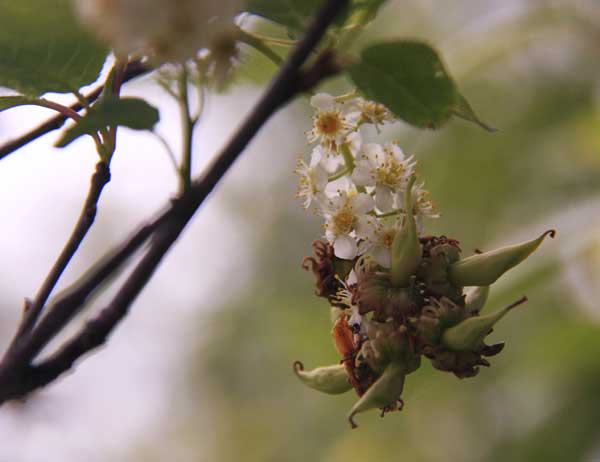 A couple of red pines have large holes bored in them. I suspect human vandalism but later research indicates they're made by pileated woodpeckers. They keep snakes out of their nests by drilling holes that drip sap across the entrance. Innovative, to be sure.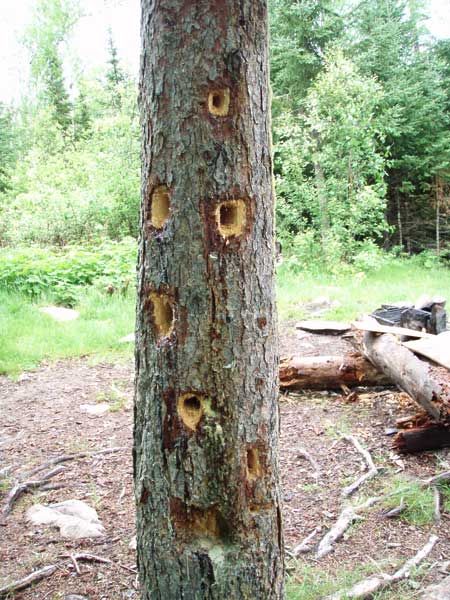 Dinner is something good, maybe burrito stew with tortillas.
Day 3 – Wednesday, May 23 – More Rain
Happy birthday to my favorite 60-year-old sister!
Today's challenge is to resist second-guessing. It rained last night but stopped before dawn. We would rather stay put than paddle in the rain, but the only weather is mixed overcast and wind, despite the forecast of 70% showers. Tomorrow is also supposed to rain, heavily in places, so the plan is to leave Friday. We're using up days – and food – and may have to shorten the trip, which wouldn't be the end of the world. Arnie is relaxed about it. I need to do likewise. My tension reflects not really being present yet in this environment, despite the beautiful setting.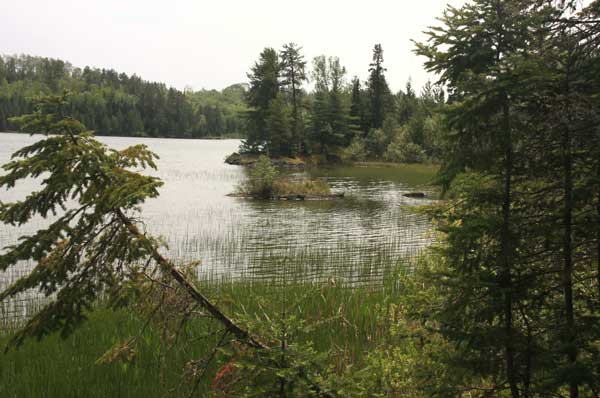 We have a nice, long conversation – many topics, very interactive and satisfying. At times it hardly seems intergenerational. I manage to get a couple of portraits, so to speak.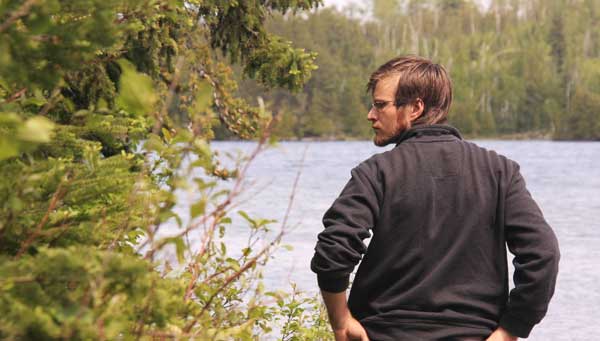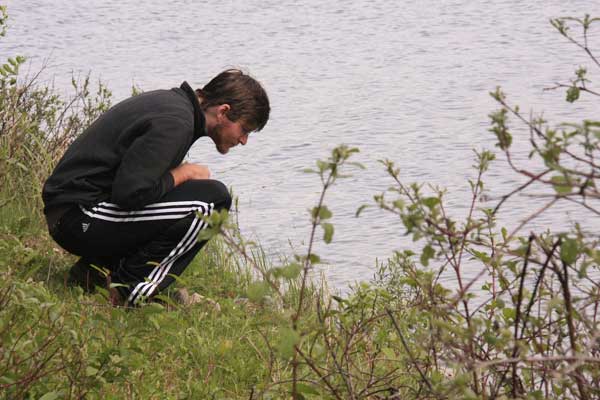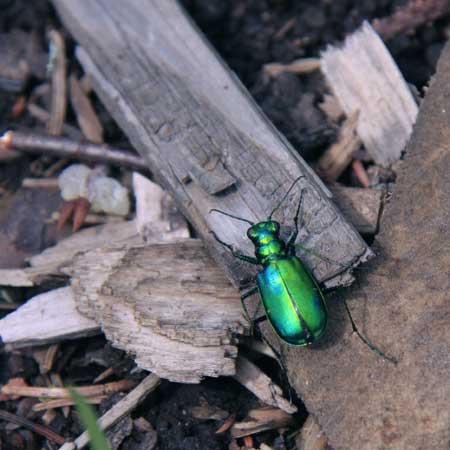 We get a bit of sunshine for a while, then light rain starts in the late afternoon.
Breakfast today is scrambled eggs with mushrooms and peppers, with Cache Lake fry bread (Italian flavor). Yum!
So far we've found several ticks and only a few mosquitoes. During the entire trip Arnie picks up about 35 ticks, while I get only two or three. He declines to wear the permethrin-treated shirt I've given him; I guess he'd rather have ticks. I get what might be a black fly bite and see another one; otherwise the bugs aren't bad during the whole trip.
It rains off and on until 8:00, then continues steadily. No wind, just a constant patter on the tarp and tents.
Dinner is an old standby, Mountain House wild rice pilaf with chicken.
Day 4 – Thursday, May 24 – More of the Same
Rain.
There are some periods of clouds and no rain, but mostly light rain. Heavy rain starts about 3:00.
Dinner is couscous with bread sticks.
We're ready to get off this site.
We go through several bouts of examining possible shortcuts to make up for these unplanned layover days and discover a way to cover the route without shortening it. We can add a few portages and miles to the third and fourth travel days and still get two more layover days.
Today's traffic: A group of four boats at the east portage, with three more waiting. In the rain.
This place is for the birds. We see loons, turkey vultures, eagles, ravens (including a few that harass the eagles), a pair of goldfinches, a cedar waxwing, and a hummingbird. I'm a little disappointed not to see any grey jays.
Tomorrow: Melon Lake to Aushigan Lake to Moose Lake