BWCA - September 2011
Page 3: Days 5-8
Melon Lake to Aushigan Lake to Moose Lake
Day 5 – Friday, May 25 – Travel
We're finally moving today. Arnie's thumb is bothering him more than he's admitted, and he has a particularly hard time packing up camp. I see that it will be best to minimize the number of campsite changes and decide to abort the rest of the trip. Our destination is now Ensign Lake instead of South Arm Knife Lake. The forecast is for good weather today, mixed conditions on Saturday, and rain again Sunday, so I want to find a nicer site than this one. The new plan is to head back out when we leave whatever site we end up at today.
We portage into and out of Frog and Trident Lakes. The north end of Trident is interesting, with a nice boardwalk and an intimate little channel into the main body of the lake..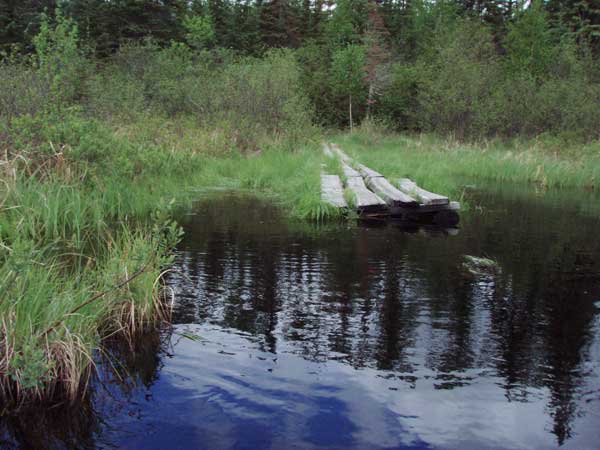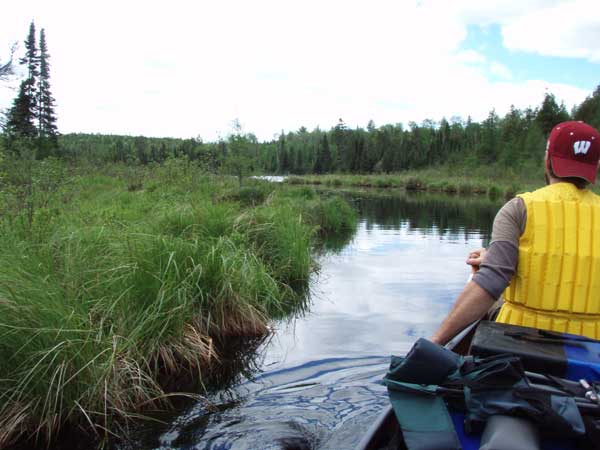 When we get to Ensign Lake it's beautiful and inviting; it's also deceptive, being sheltered from the west wind.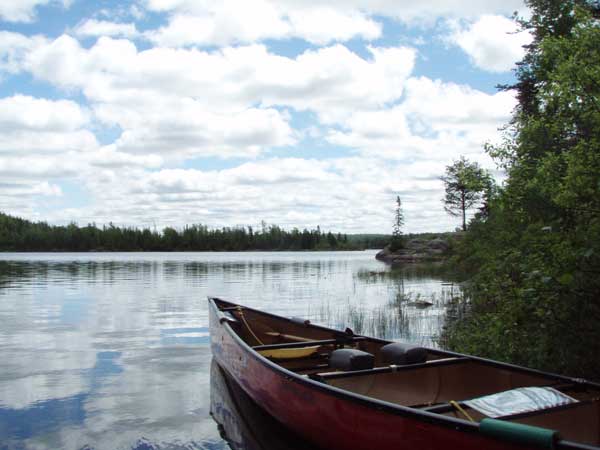 Out past the shoreline to our right a strong westerly wind is stirring up waves 12-15 inches high that spill over the gunwales a few times. After a fruitless hour of tough paddling in the east (downwind) end of the lake, I learn from other campers that Ensign is most likely full (of course, it's Memorial Day weekend!) so we head south to Aushigan Lake and get site number 1 (C1205) near the portage. It's OK, not quite level but serviceable. Once again we set up a front porch.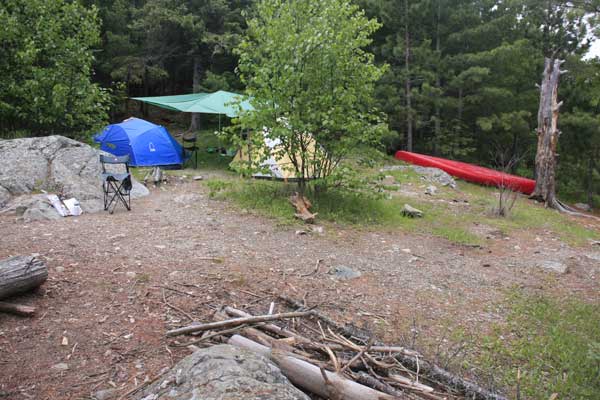 We aren't quite sure what to make of the evening sunshine, but the Canon comes to the rescue.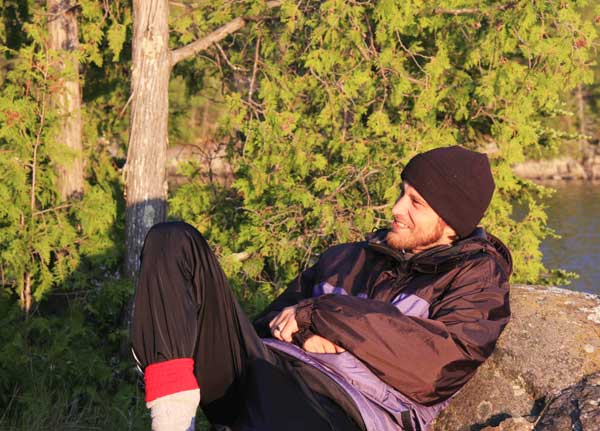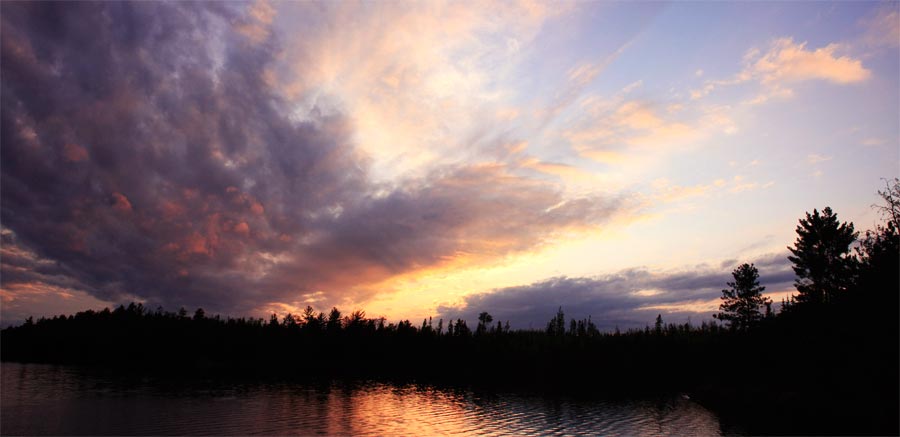 Dinner is another old standby, Mountain House Pasta Primavera with chicken.
We even get a view of the moon.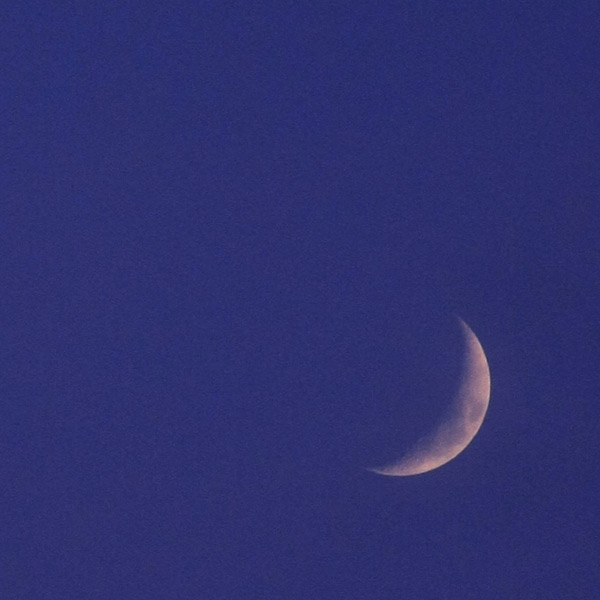 Arnie's been struggling with boredom, having read everything he brought. I've kept myself entertained with a book of killer crosswords and a novel. Today we have lots of good talk and connection and I conclude the trip was worth it despite the weather.
There are occasional swarms of mosquitoes here but we're able to hold them off with herbal repellents.
Day 3 summary:
Total distance 8.4 miles in 5:05
5 portages of 380 rods in 2:50
Day 6 – Saturday, May 26 – Weather
Not much to say about this day. We got up, ate, talked, ate, read, ate, went back to bed. Arnie hasn't quite jumped out of his skin, while I'm just idling in neutral.
Day 7 – Sunday, May 27 – More Weather
Heavy rain last night. It's nice to have a dry campsite. It's another "turn down day" – rain and wind until early afternoon, then overcast and still. Not many photo ops, just a little rock pool that overflowed ...
... and a soft landscape that doesn't begin to do justice to the nice view from this site.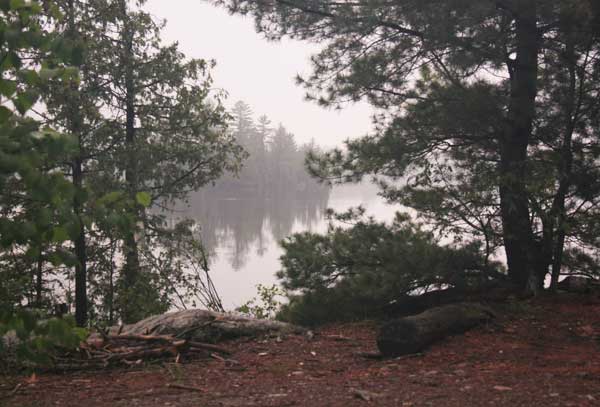 We have another good dinner and turn in with anticipation of moving tomorrow.
Day 8 – Monday, May 28 – Aushigan Lake to Moose Lake
We leave camp at 8:30 into a gentle headwind that's mostly mild enough to not present any significant problem paddling. While in Ensign Lake we encounter a loon that swims away instead of diving.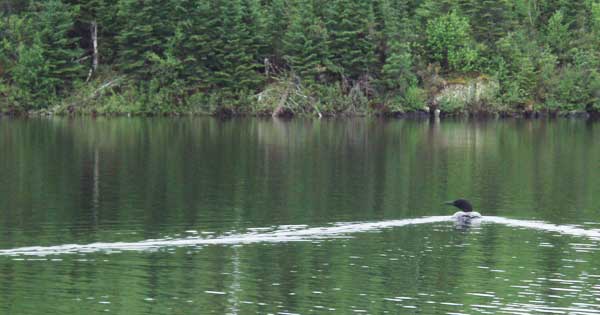 At about noon, the southwest wind builds to 15+ mph – enough to kick up some whitecaps – and we arrive at the Moose Lake landing a half-hour later. It turns out to be a nice day – the nicest yet – sunny and warm.
We get a room at VNO, have a great lunch at the Boathouse Brewpub, and another fine dinner at Rockwood. Arnie says he's eaten twice as much as usual, and I'm feeling pretty fat myself. He can use a little more weight. Oddly, it turns out I've lost a pound or two, which is fine with me.
We agree this was a good trip, despite the tedium and lack of travel. I start forming a plan to come back and do it as intended. We shall see.