BWCA - May 2013
Page 2: Days 1-3
Trail's End to South Arm Knife Lake
Day 1 – Saturday, May 25 – The Trail Begins at Trail's End
Why is this lake's name pronounced SAHG-nuh-guh? It makes me feel like I have a head cold.
The Trail's End entry: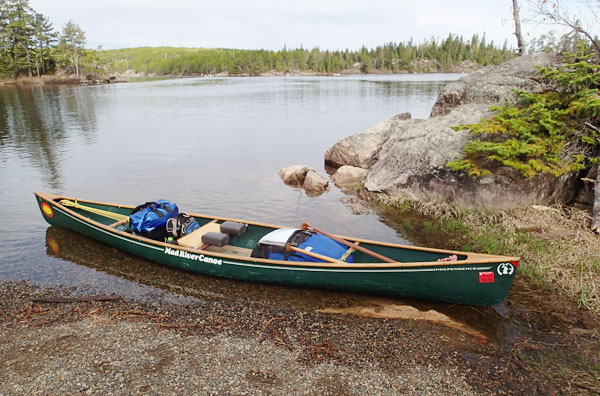 It's a nice day - partly cloudy, mid-60s, with an E-SE wind at about 10-15. It's a quartering wind until I get around American Point, then it becomes a crosswind. The Independence is hard to trim because of its rocker and through most of the trip I have a hard time keeping the stern from getting pushed sideways. I start to regret selling the Prism last fall. Oh well, it is what it is and I'll have to deal with it. Despite having the wrong boat for the conditions, it's a good day for canoeing, with views that remind me that I've returned to the real world.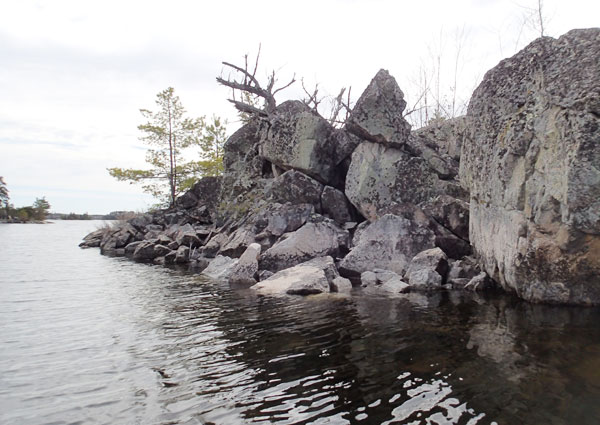 The birches are just leafing out, a reminder that northern Minnesota's climate is a few weeks behind southern Wisconsin's.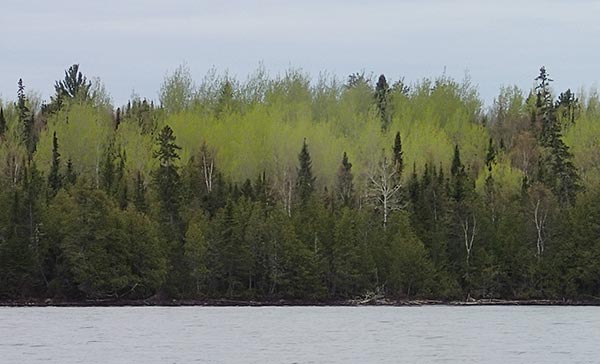 Today's plan is to paddle 9-1/2 miles but I put 12 under my keel. It's easy with no portages and a tailwind. I end up at site 76 (C0338), which I grade a B- (2-3 stars) but it's good enough for a layover and that's what I plan to do. My shoulders are a bit sore from several hours of steady paddling.
Dinner is wild rice pilaf with chicken and bannock, and some dark chocolate and a mug of Good Earth tea for dessert. A mix of sherry and Chambord makes for a tasty nightcap. I stash the food as usual.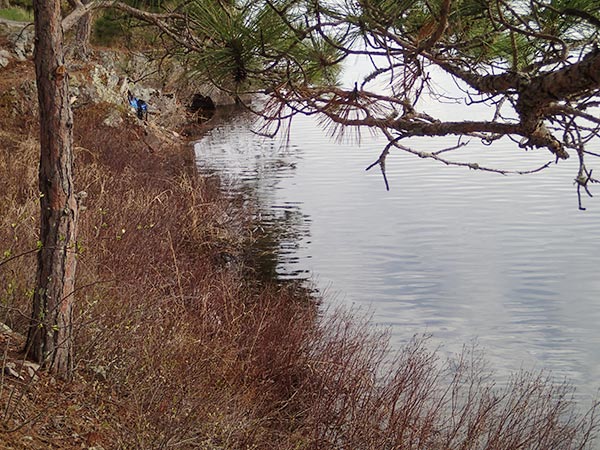 Although this campsite is only a few cuts above mediocre, the sky makes it fairly photogenic.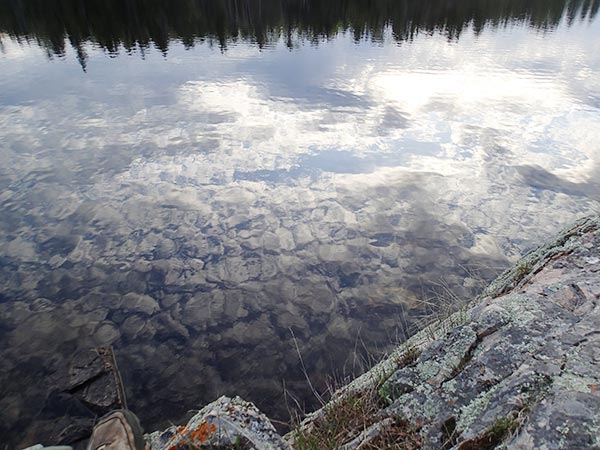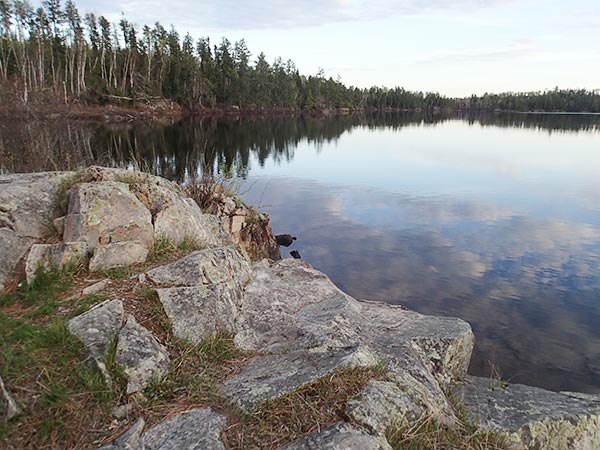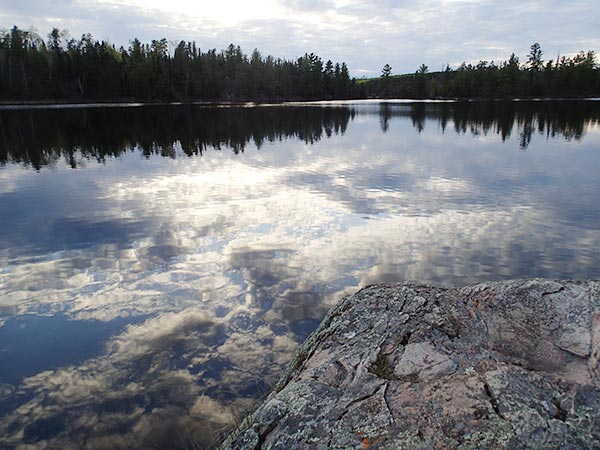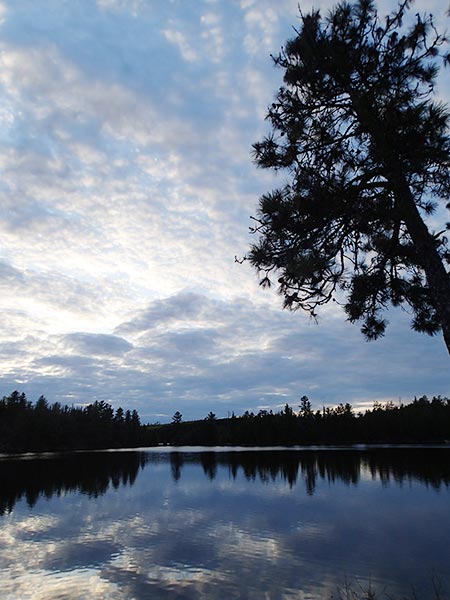 Day 1 summary:
Total distance 12 miles in 3:45
No portages

Day 2 – Sunday, May 26 – To Look, Perchance to See
I sleep long and well, and I get up not nearly as tired or sore as I'd expected. The forecast is for rain on Tuesday and Thursday to a travel-layover pattern makes sense. I'll travel tomorrow; right now I have something important to do: settle into my surroundings.
Breakfast is scrambled eggs with rehdrated veggies and bannock ... yum.
Dinner is another yum: Moroccan Stew (from Hawk Vittles) with bannock, dark chocolate, and sherry/Chambord.
Not much else to report, other than I'm not really here yet. I hear the loons but not their true song; I see them but don't quite feel their presence. It's surprising how slowly one learns to slow down and pay attention. So I take my time with the camera, looking and trying to see before holding up the viewfinder.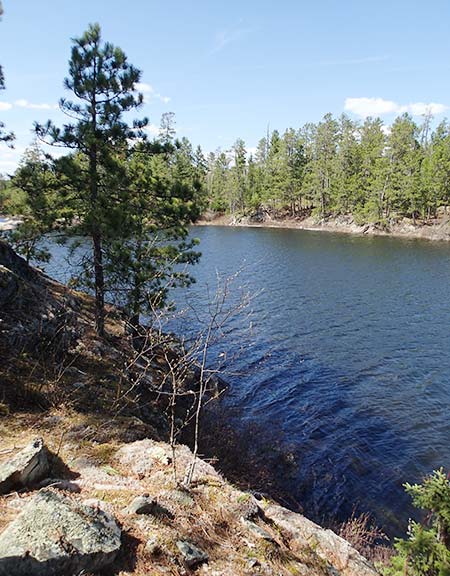 These loons swam a circle, coming back together near the shore. I can't help but wonder if they're dating, engaged, already married, or just friends.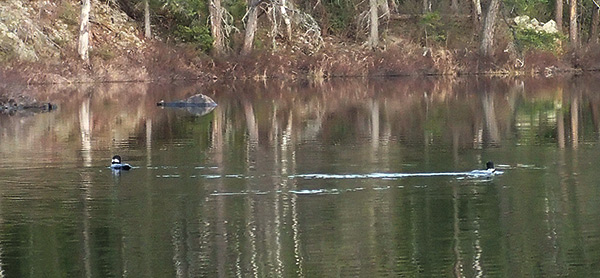 This just begs to be shared ...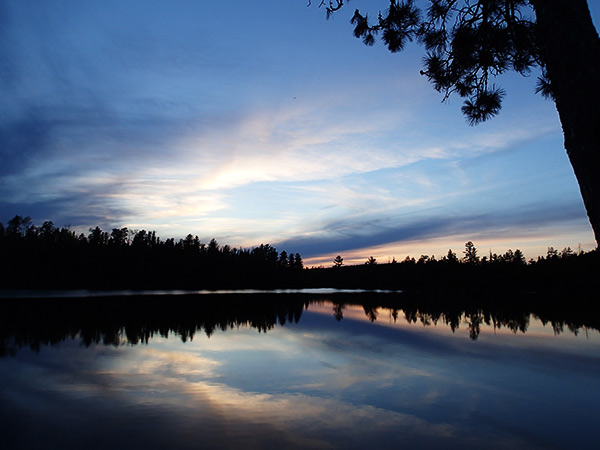 Day 2 summary:
Total distance - 0 miles in 24:00
Day 3 – Monday, May 27 – Who Rates These Campsites?
Summary: I'm tired. But first a bit of travelogue.
The Monument Portage is quite an entertaining place. As I pull in, a tandem team is coming the other way. They're a pair of rangers, one of whom tells me they've been doing portage and campsite maintenance and checking the occasional permit. I tell him that sounds like a hint, he nods, and I produce my permit. They go on their way and I take my first load across. The monuments must, of course, be photographed.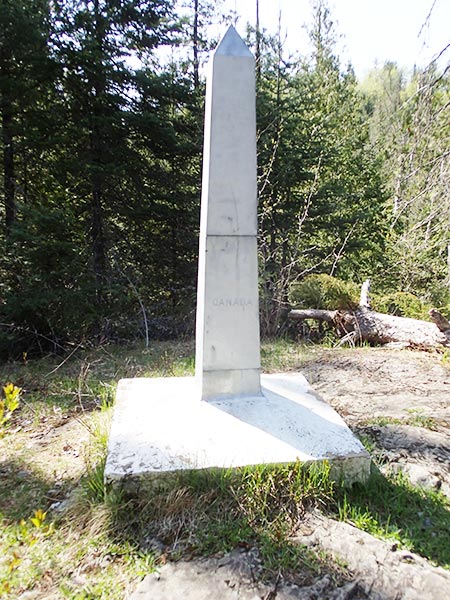 I guess this is proof I stepped onto Canadian soil. Can I get a ticket after the fact?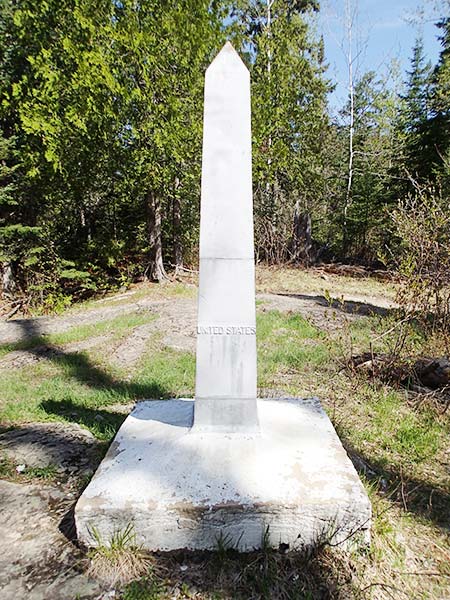 The scenery is nice on Ottertrack Lake.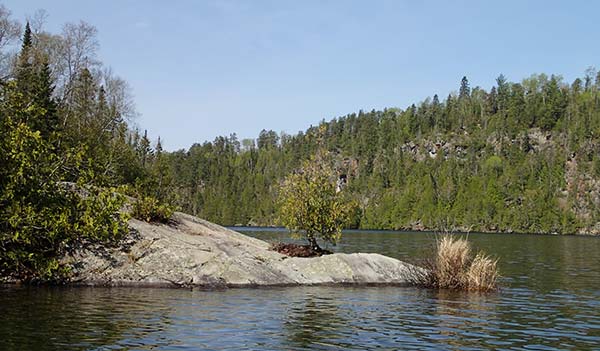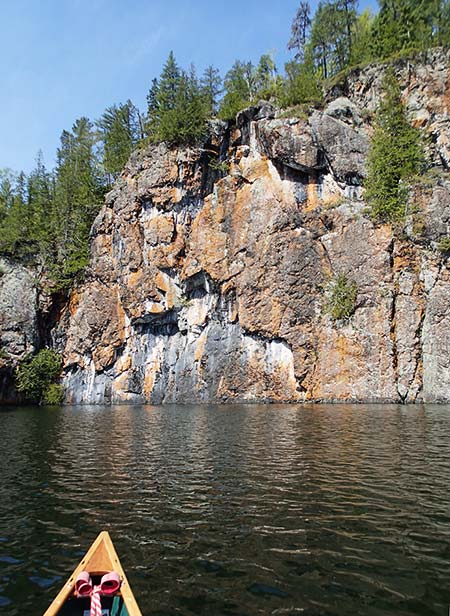 At one point I spot a plaque on the Canadian side honoring an old-timer. At first this thing seems both out of place and an affront to nature, but then it occurs to me that maybe it's just a modern version of a pictograph.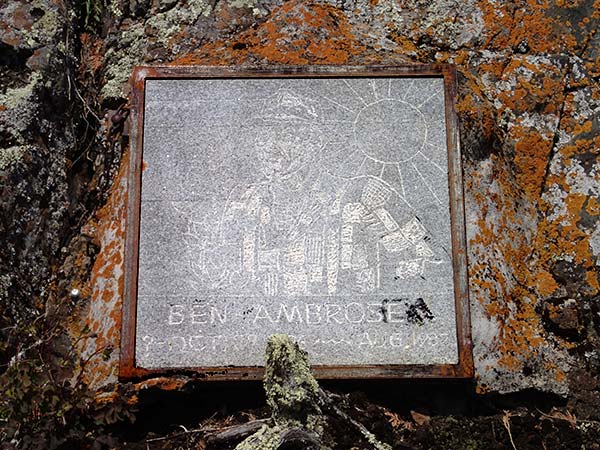 Portage landings are generally not very photogenic, but this one - the landing on the west end of the 26-rod portage at the base of the peninsula between Cypress Lake and Knife Lake - somehow seemed worth sharing.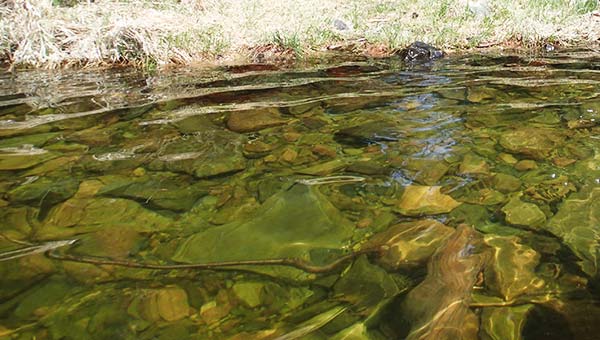 Knife Lake has some burned-out areas that are both ghostly and revealing.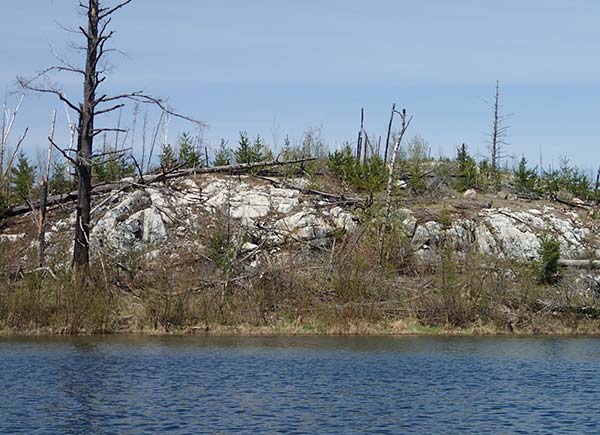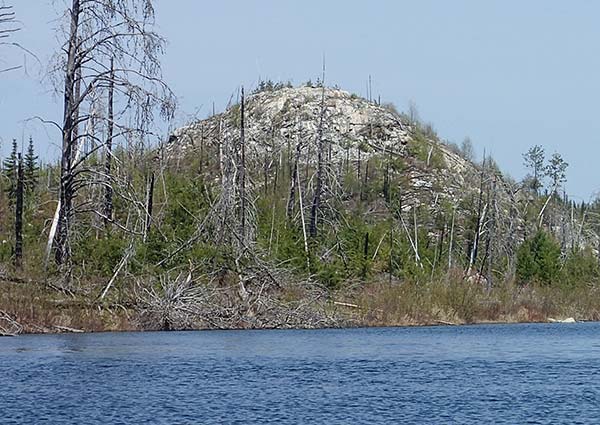 There are three entrances to the South Arm of Knife Lake. The first leads to a 39-rod portage; the second leads to a very narrow channel; and the third goes right in with no obstacles. I take the second option and discover the channel is indeed narrow, so narrow that I'm surprised that I can line the boat through without apparently touching anything.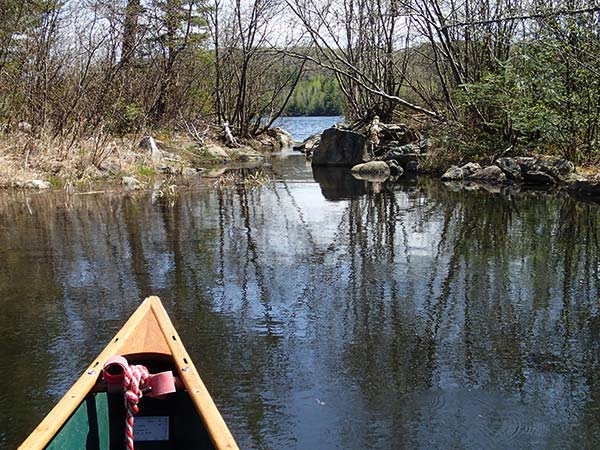 OK, so I'm tired. My plan was to paddle 10 miles today but I end up struggling with the wind for most of 13 miles. Several supposedly nice campsites southwest of Amoeber Lake turn out to be questionable for one night and poor choices for a layover day, which I have planned for tomorrow. They're by turns small, dark, lumpy, and just plain ugly. One has a trashy kitchen area and another has no good tarping options. I finally end up on site 23 (C1444), which I rate a C- (2 stars at best). I'm glad the forecast has improved because I don't want to stay here any longer than necessary.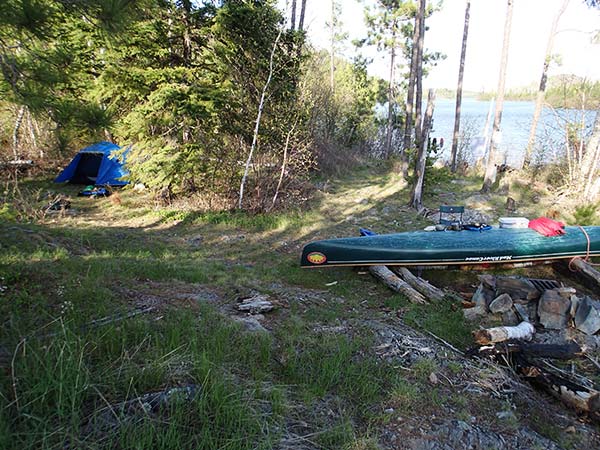 There isn't much else to say about today except for the wind and the boat. The wind was all over the place, from east and south and west and everywhere in bewteen. The nominal wind speed is 10-15 mph, but of course the land forms redirect and concentrate it. The Independence, with its river-friendly rocker, just isn't designed for these conditions. It's nearly impossible to get enough weight in the end of the boat to get it to weathervane. At one point I strap both paddles together to use in double-blade fashion. That gets me through the wind tunnel leading into South Arm Knife Lake.
Dinner is Hawk Vittles Linguini with Mushroom Sauce, one of my favorites, partly because it packs 1,000 calories per serving.
Most of the wildlife I've seen so far have been ticks.
Day 3 summary:
Total distance 13 miles in 6:00
3 portages of 117 rods in 1:10
Tomorrow: The Heart of the Matter