BWCA - May 2013
Page 3: Days 3-4
South Arm Knife to Trail's End to Grand Marais
Day 4 – Tuesday, May 28 – The Heart of the Matter
I start to break camp early this morning. About halfway through the usual routine I suddenly get light-headed with a fast but irregular heartbeat. I watch it carefully as I continue to pack up and conclude that, since I'm not in pain and my chest and arms feel OK, it's not a heart attack. A leaky heart valve? A mild stroke? I really have no idea, and after some inner discussion I decide I can't stay put; I have to get out as soon as possible and cannot expect to get any help. I have two options: 28 miles and four portages or 18 miles and eight portages. I figure if I can do one portage I can do eight, so I set my sights on getting to the hospital in Grand Marais tomorrow afternoon, thus choosing the 18-mile route. I finish loading up - stopping to catch my breath several times - and start paddling with an easy stroke. So far, so good, I'm feeling OK except for the Morse Code going on inside. I'm aware I need to stay focused, present and clear-headed, and I do so the rest of the trip.
Soon I run into Paul and Eric, who I'd seen a few days earlier. Thinking it safer to let them know all is not 100% with me I tell them I'm having heart palpitations and ask if they see a ranger would they send him back to me. They're paddling kayaks so I figured they'd be a lot faster but they're actually moving at about my pace, including portages (I'm still triple-carrying). We travel together today and I'm grateful to have a couple of guardian angels.
The day is gorgeous with only a few wind problems, and I handle the portages reasonably well. The first one, from Ogish to Eddy, is only 30 rods but climbs 80 feet vertically. I get seriously woozy on my first trip across, but by the end I don't feel any worse than when I started. I quickly learn to move very slowly when under load, and by the time I bring my third load across I have the process down pat: take it slow, and when I get light-headed, stop or slow down until it passes. This approach gets me through the next seven portages with strength and confidence, though certainly not much speed.
The reason for this first portage is really impressive: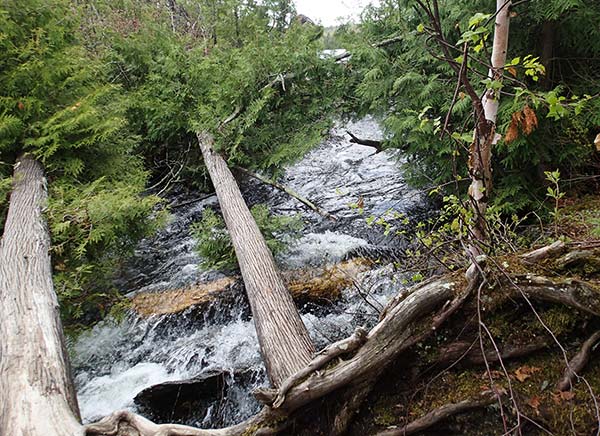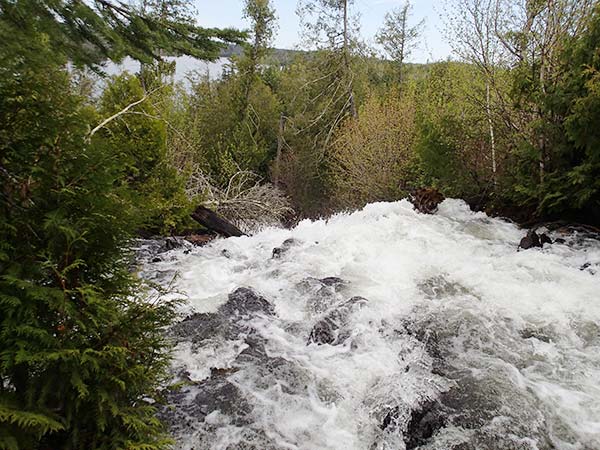 Here's a little video: Why We Portage, Part 1.
We travel a total of eight miles to an incredible campsite at the north end of Ogishkemuncie Lake, no. 12 (C0792). This is the equivalent of a wilderness Hilton with at least a half-dozen good tent pads, excellent landings, a nice view, and a "thunder box" with a lid.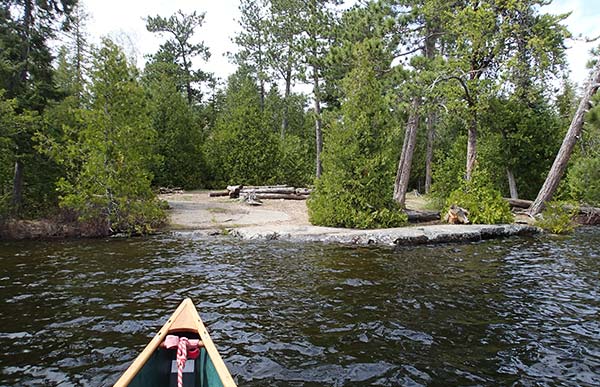 It even has a parking lot.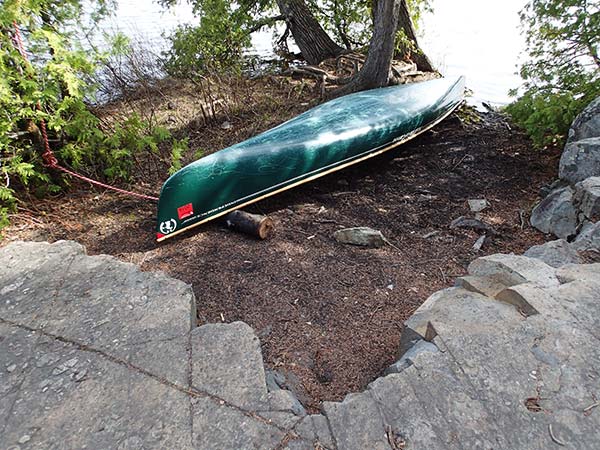 This shows only about a third of the site. There are two more tent pads to my left and at least one more nice one back in the woods.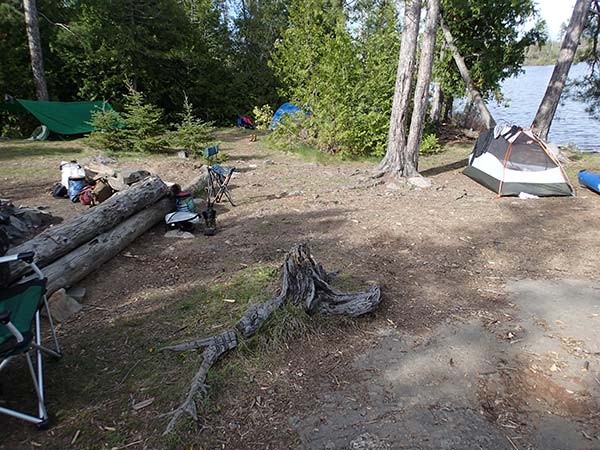 Dinner is another favorite: Hawk Vittles Sweet Italian Sausage with Pasta and bannock. I figure I don't need all the food I'm carrying so I share bannock and beef jerky with Paul and Eric, who seem to like it as much as I do.
Day 4 summary:
Total distance 8 miles in 5:30
4 portages of 84 rods in 2:00
Day 5 – Wednesday, May 29 – Onward to Grand Marais and a Good Result
In the morning I break camp a little ahead of Paul and Eric. Considering how well yesterday went - all things considered - I decide to head out alone so I can get to Grand Marais as soon as possible. Everything goes well once I find the portage trail from Ogishkemuncie to Kingfisher Lake. It isn't obvious, and as the water's sound and current increase I realize I'd better get out while I can. I clamber up the steep bank and discover a well-worn footpath. Looking back, I see it leads down to a landing which is hidden by a little point that juts into the water on the left side of the frame. I also see Paul and Eric in the distance but, wanting to keep moving, I keep moving instead of waiting for them and being sociable.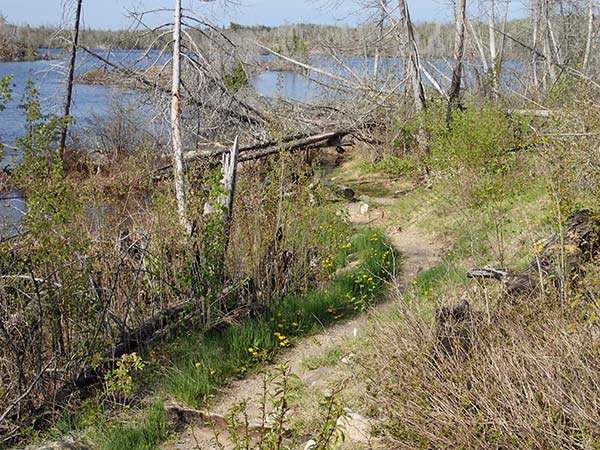 The portage from Jasper to Alpine - or rather, the reason for the portage - is quite photogenic. It provides material for a second video, a compilation I call Why We Portage, Part 2.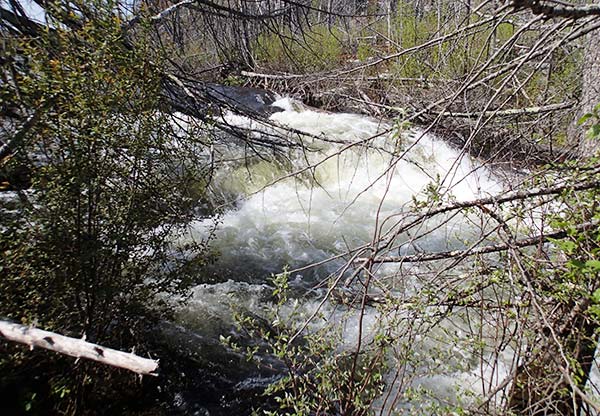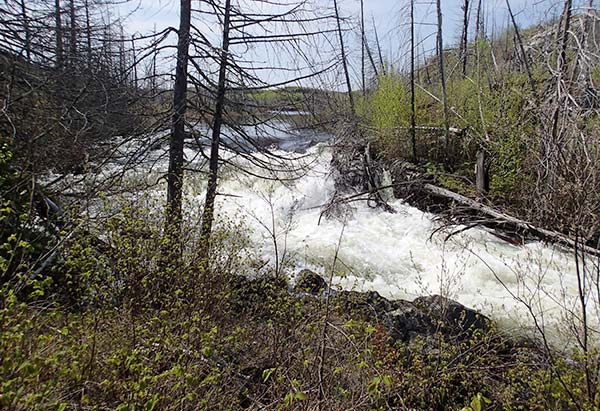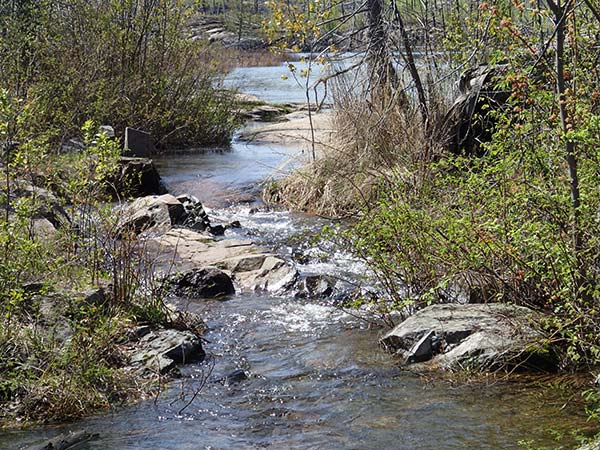 This portage is also a good example of why we should be happy to pay the small BWCA entry fees: trail maintenance. Three trees have been cut to provide passage, and a number of large rocks have been placed as stair steps. This is common throughout the Boundary Waters and is something I appreciate. Those who prefer a wilder experience go to Quetico.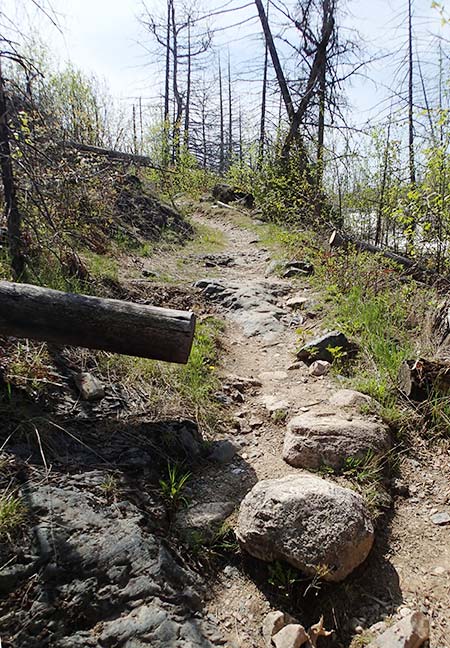 The end of the portage doesn't disappoint, either. I can't take a picture of the landing from the water because it's running much too fast to enable me to handle the camera. I'm grateful for the past whitewater experience that enables me to peel out of the bankside eddy and into the main current.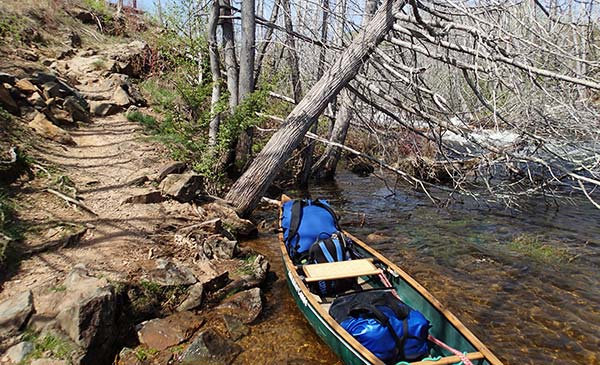 The portage from Alpine to Sea Gull provides an unexpected delight. Early in the trip I meet a middle-aged man named Jen-Shen (Chinese for "kind spirit") who is traveling solo. He had started his trip on the day I first came up to Ely - before going back home because of my knee. I meet him again at the beginning of this final portage and we have a nice chat. I describe my ongoing heart symptoms and he tells me he has the same experience due to a prolapsed mitral valve. That's encouraging, since I don't know yet that it's really atrial fibrillation. I load up and head up the portage trail with him behind me. At the end I put down my main pack and see him behind me, carrying his own main pack - plus my food pack, which weighs a good 35 pounds. I thank him profusely and tell him he was well named; he thanks me and we take each other's picture with his camera. He's paddling a Wenonah Prism that the outfitter has modified by moving the seat back nearly two feet; this enables the carry yoke to be permanently installed. Jen says it's hard to get enough weight into the bow to keep it down in a headwind.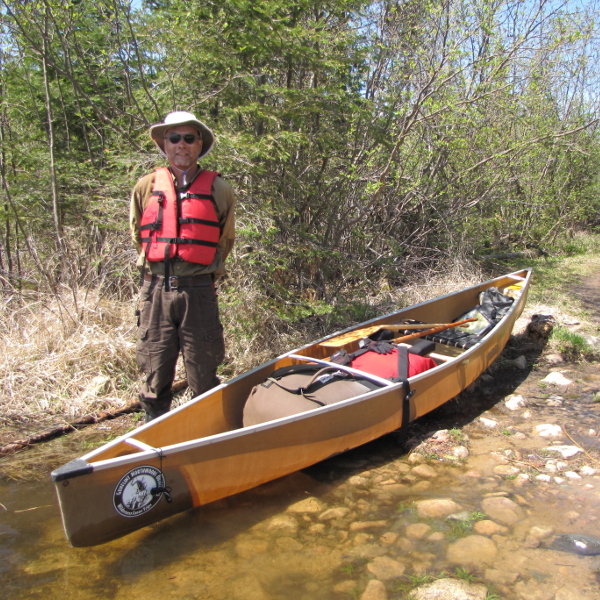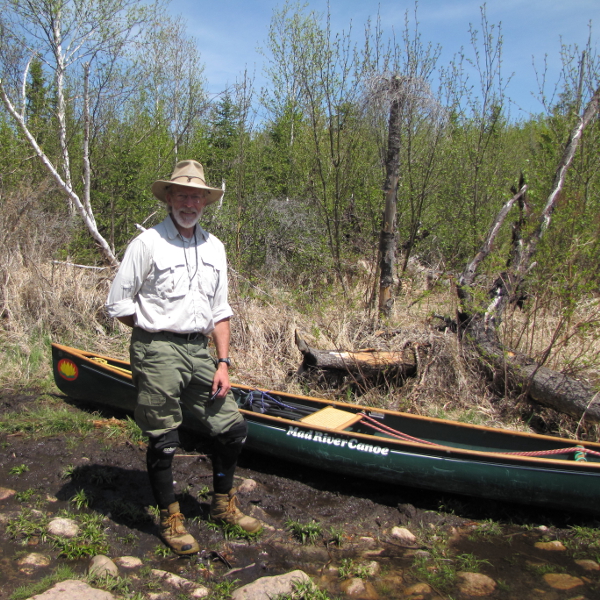 I am happy and grateful to have an opportunity - via this trip report - to remember such a genuinely kind person. I hope to meet up with him again some day. (Update: We did a trip together a year later. See my trip report for June 2014.)
We part ways, Jen in search of his last campsite, I in search of my car. Unbeknownst to me, he takes my picture somewhere on Sea Gull Lake. I'm glad to see I'm practicing what I preach to my canoeing students. My main pack is behind me in an attempt to sink the stern into the water to keep it from being pushed sideways by the tailwind. This works only marginally well due to the Indy's 2.5" of rocker. At least I can use sweep strokes instead of relying on J's and ruddering. It looks like the boat is sitting low, but I'm leaning it to the onside to make it handle better and reduce windage a bit.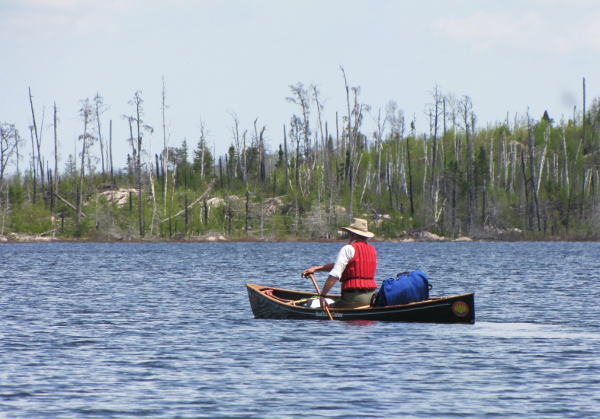 In Sea Gull Lake there are two good-size islands west of the south end of Threemile Island. Just west of the channel between them I encounter a loon. No big deal, there are lots of loons in the area. This one pops up about ten feet from my bow, and instead of diving and moving away it turns and looks at me. Thus begins an amazing display of curiosity - or territoriality - that lasts a good ten minutes, until I finally paddle off. The bird keeps swimming under and alongside the boat, then surfacing nearby and doing it again. I get a few shots that unfortunately don't capture the experience, but they at least verify it happened.
Surfacing: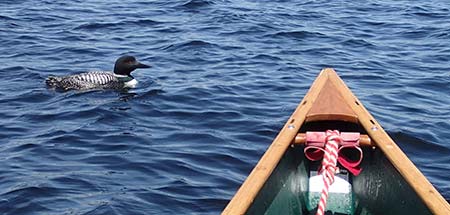 Looking instead of diving: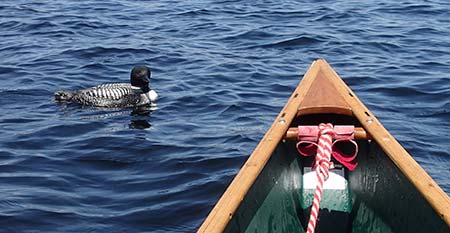 Stretching its wings (or maybe claiming ownership of the lake):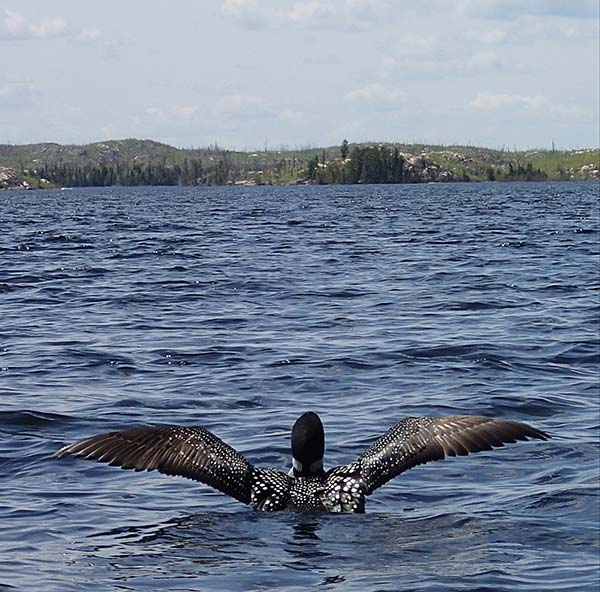 Closeups: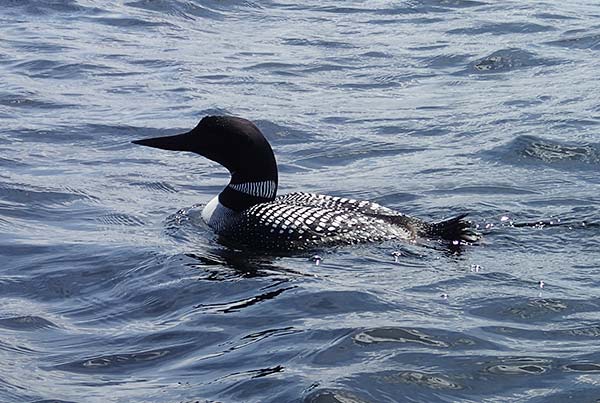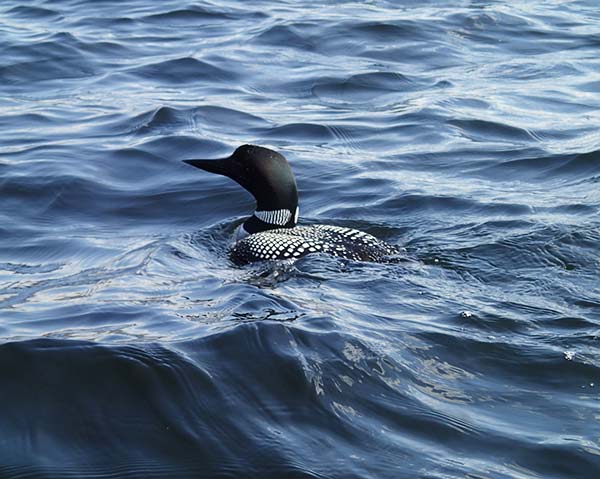 Swimming alongside the boat: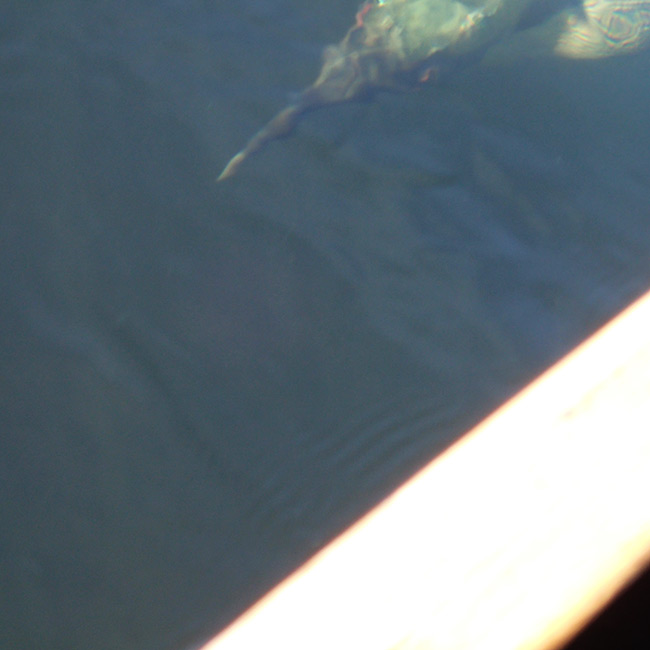 Swimming under the boat: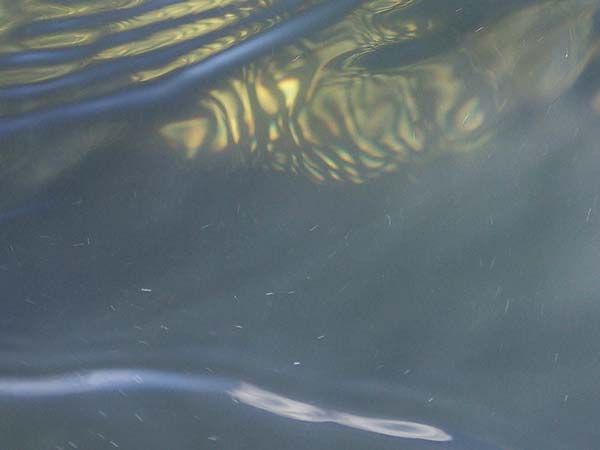 I finally get to the landing at the south edge of Trail's End campground.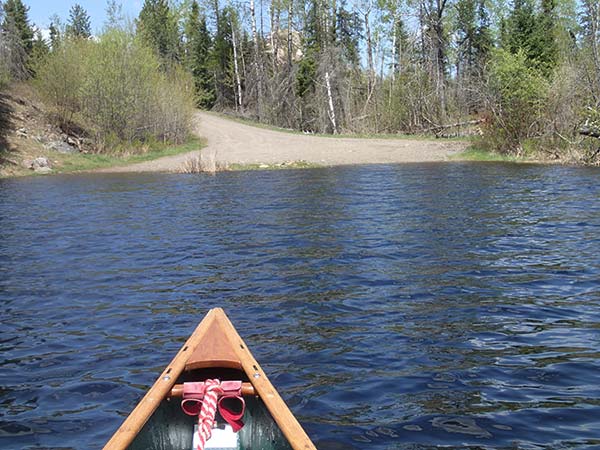 Day 5 summary:
Total distance 10 miles in 5:30
4 portages of 205 rods in 2:20
From there it's a fairly short trip to the Cook County North Shore Hospital in Grand Marais, where the ER staff are skilled and attentive - and thankfully not very busy. Most of them have done Boundary Waters trips and they understand what I've done. They're impressed, and several of them comment: "18 miles and 8 portages!" I just ask what else was I supposed to do? It's not like I could just call a cab. They take appropriate measures, and around midnight the fibrillation resolves itself and my heart rate returns to normal. I feel it in my chest shortly before I hear cheers erupt from the nursing station. That really made me feel good. All is well and the trip home is uneventful.
PS: At my annual physical a week later my doctor pronounces me healthy and fit.