BWCA - June 2014
Page 4: Days 8-11
Ima Lake to Moose Lake to Duluth
Day 8 – Tuesday, June 17 – Perfectionism redux
It's a nice day: upper 70s with W-SW wind at 5-15 mph. Finally, good paddling conditions.
Sometimes I wonder why it takes 2-3 hours to break camp. Do we really need all this stuff?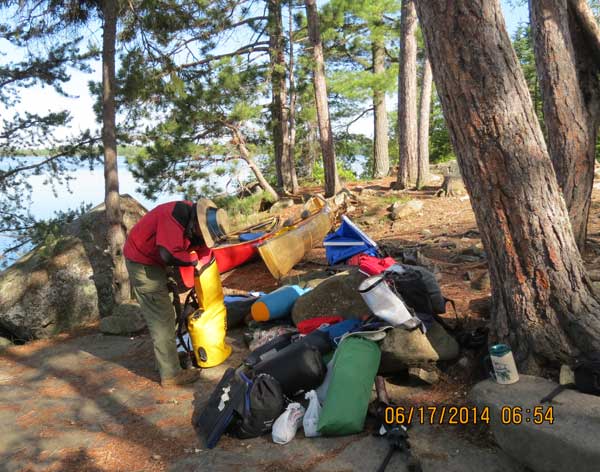 As we head west I'm looking forward to the beautiful waterway between Ima and Jordan Lakes that I call the Jordan River. We've traded boats for the day.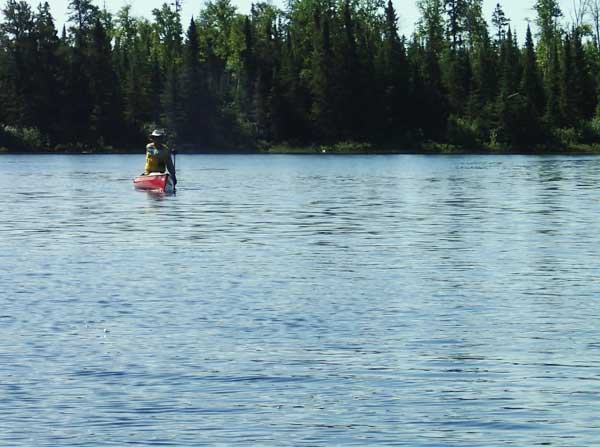 But first we have to do a short portage around yet another reason Why We Portage (Part 4).
The Jordan River speaks for itself.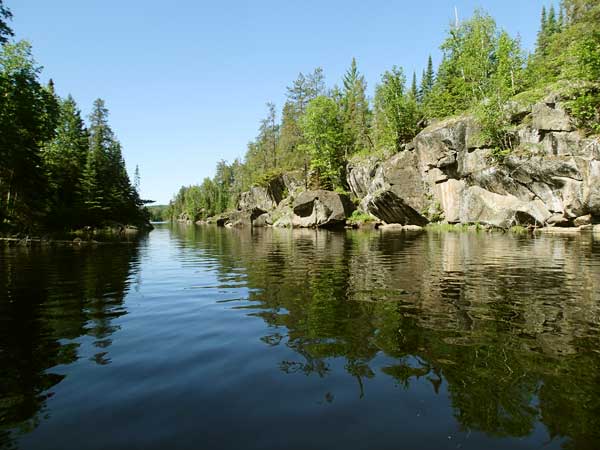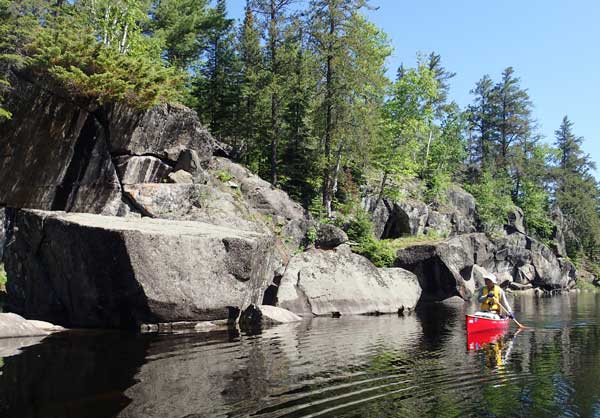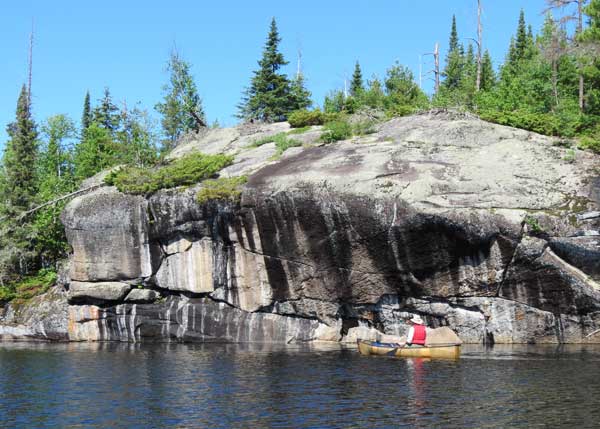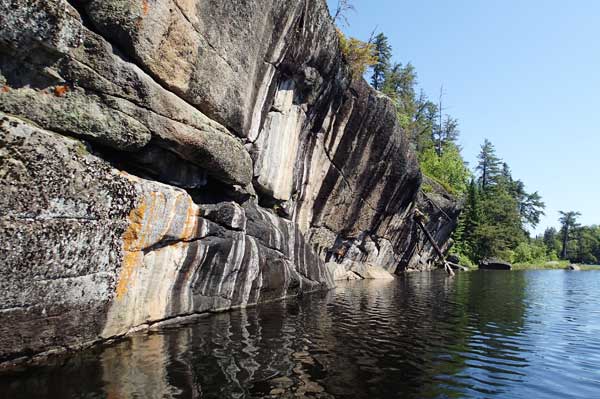 Jen took a nice video that captures some of the serenity of this waterway.
There's no way to avoid the portage from Jordan to Cattyman Lake. It's definitely another reason Why We Portage, (Part 5).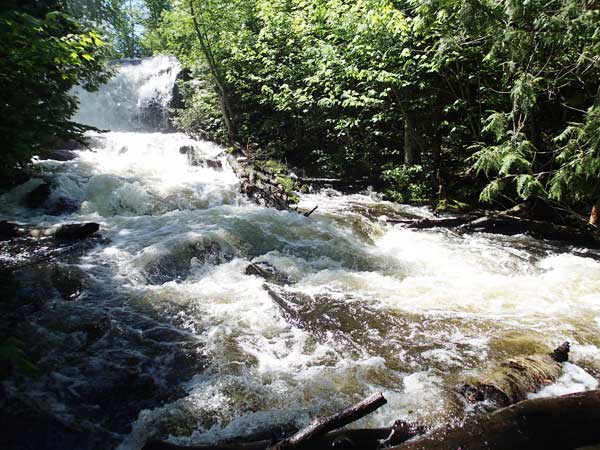 Jen spots some columbine along the trail.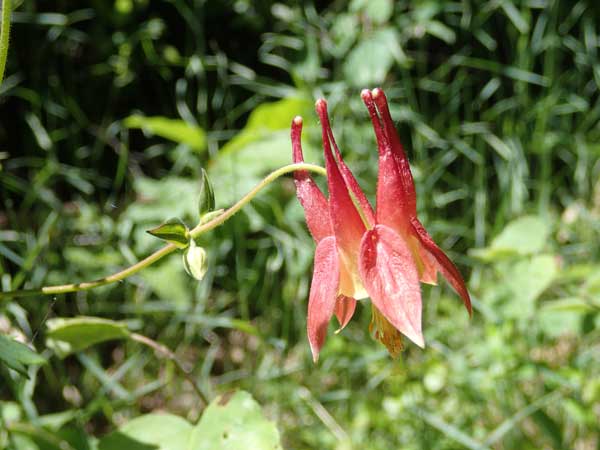 Shortly after we reach Ensign Jen gets the trip's best loon picture.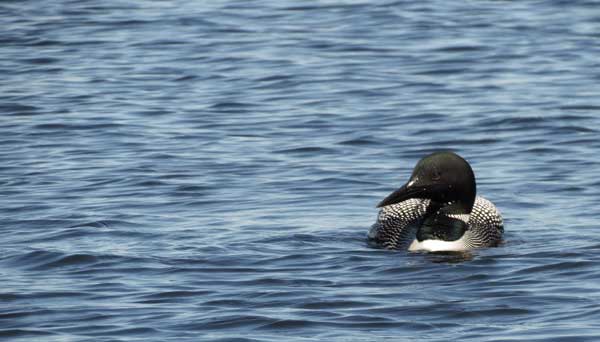 The trip through Ensign Lake is uneventful except for finding a campsite. Site 23 looks good, but since my map shows several other good sites we just have to check them out. Well, they aren't as good as they're supposed to be (a few are marginal at best) and several are already taken. We wander about for a while and head back to 23 only to find it's now occupied. So we head back west again and settle into (or rather on top of) site 20 (C1229). Someone's campsite review called it "one big rock" and they weren't kidding. The open area on top is devoid of trees usable for tarping anywhere near the single large tent pad or kitchen area. With two telescoping tarp poles we could set a tarp, but the forecast indicates clear and dry weather.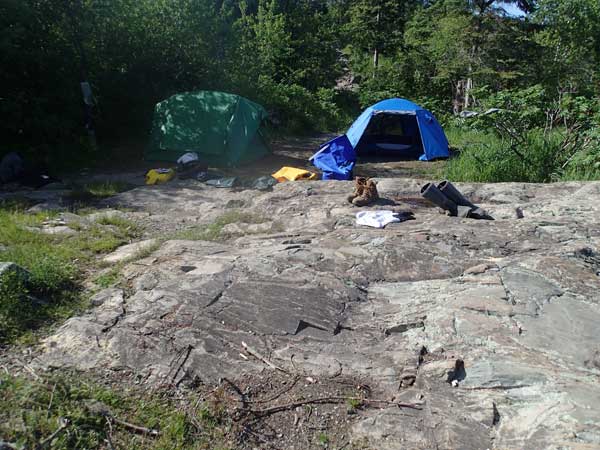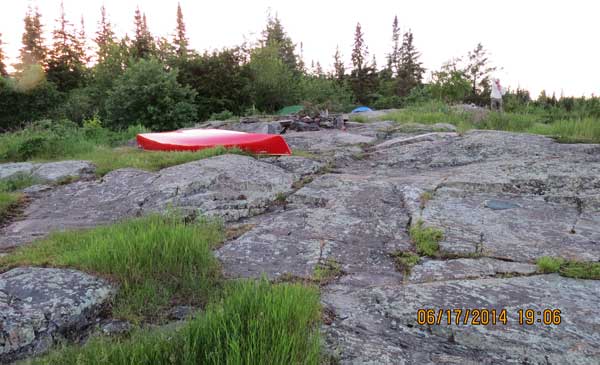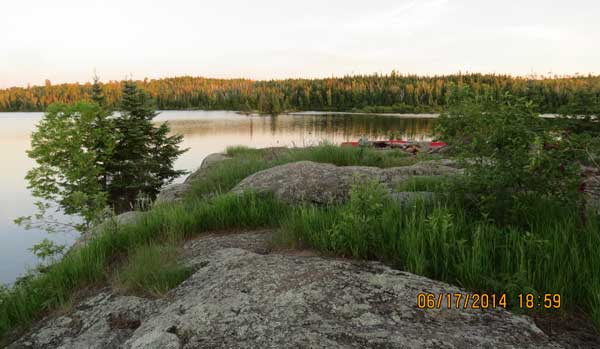 Jen finds a clump of chives. It looks like clover, but the cut stems give it away.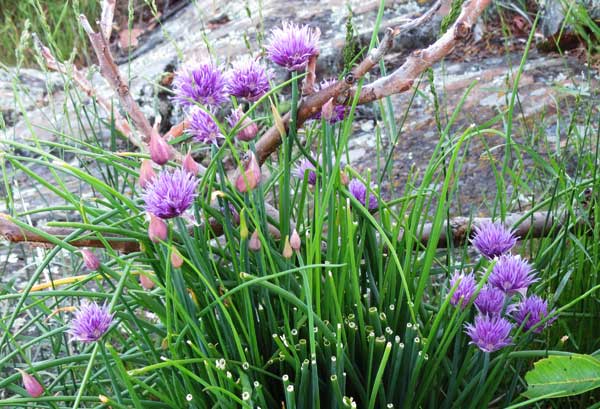 We still have a bit of red wine left. I hope our curious companion doesn't go after the bottle cap out of experience with it.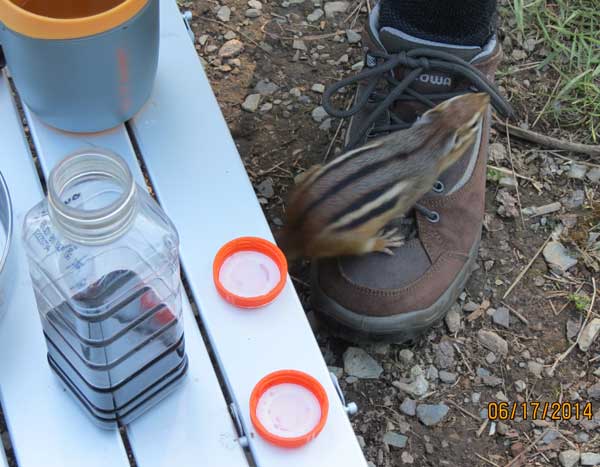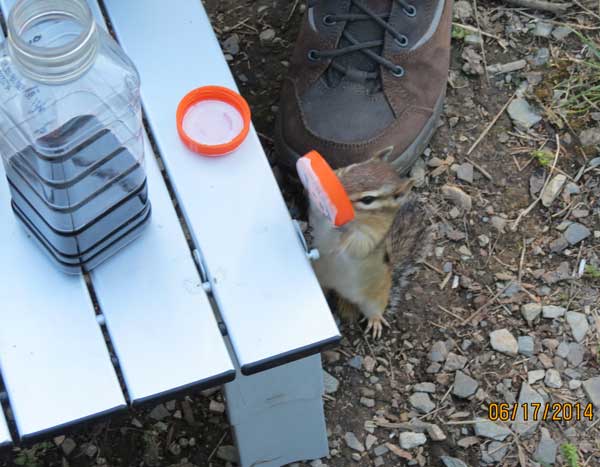 Dinner is Hawk Vittles Sweet Italian Sausage with Pasta. More "yum." Our little buddy makes the most of a stray bit of macaroni.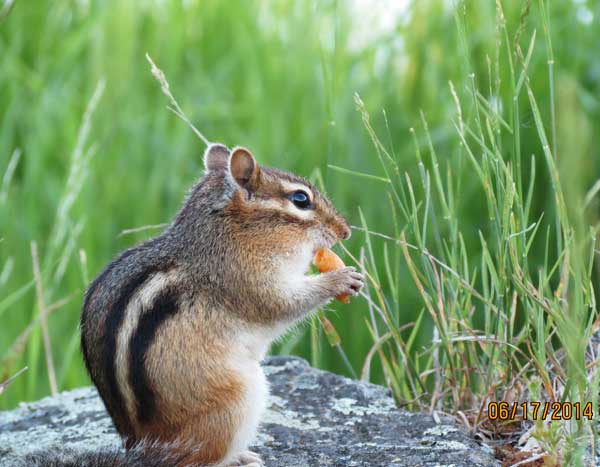 Day 8 summary:
Total distance 8.6 miles in 6:00
5 portages of 210 rods
Day 9 – Wednesday, June 18 – Pushy Tailwinds
Our planned exit is Thursday, and we're scheduled to meet the tow at 2:00 at the portage landing on the north end of the Moose-Newfound-Sucker chain. However, the forecast for that day is SW winds at 10-15+ mph (remember the "wind tunnel" effect) and a 60% chance of thunderstorms in the afternoon, which raises a few questions:
How seriously should we take a 60% forecast for two days hence?
Will the storm hit in the early or late afternoon?
How will the tow operator deal with whatever arises?
If the tow operator fails to show up, do we want to be faced with 6-1/2 miles of paddling into a headwind?
Jen's flight leaves the Duluth airport on Friday, and it probably wouldn't do for him to miss it, so we aren't too interested in pushing our luck. With that in mind we decide to head out today. It's mostly cloudy, about 70 degrees, with an E-NE wind at 10-15+ mph. At the west end of Ensign Lake we get our final high-water portage bypass. Video link.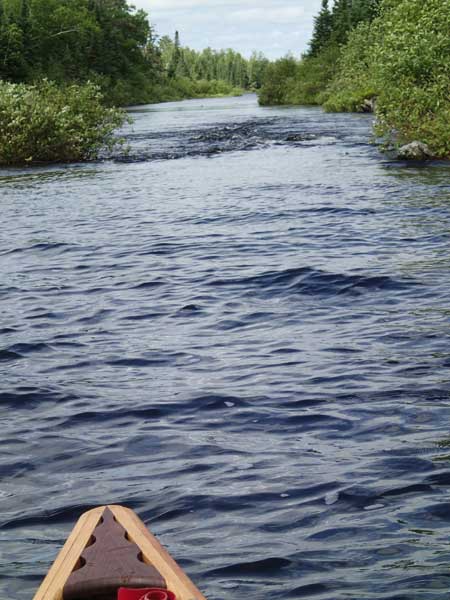 After the last portage, out of Splash Lake, we ride the tailwind all the way to the Moose Lake landing. Without paddling we're moving about 3 mph.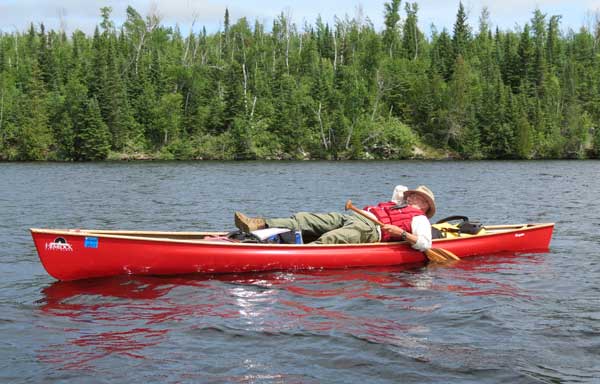 Jen manages to harness the wind for a little while.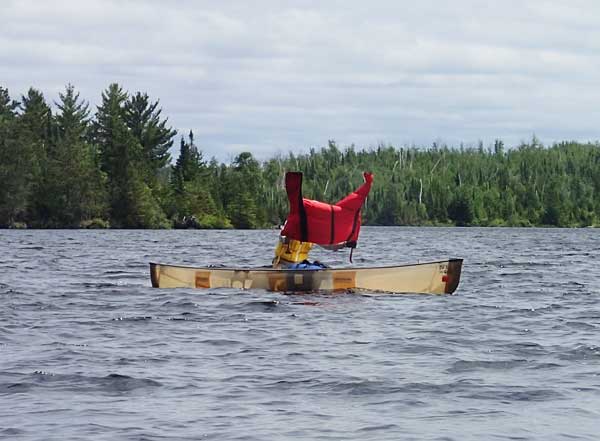 But the waves start coming bigger and faster. By the last hour it's work to keep the Peregrine from getting pushed sideways by overtaking waves, although the NorthStar handles them with greater ease. I surf a few of them, but mostly they roll by faster than I can paddle, which is over 5 mph, according to Jen's GPS. The end of a trip normally triggers a sense of regret, but this time I'm glad to be back on stable footing.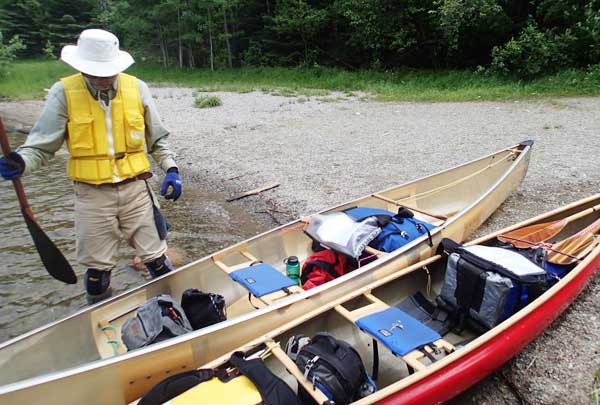 Dinner is walleye at Rockwood Lodge. Sleep comes easily in the Voyageur North Outfitters bunkhouse.
Day 9 summary:
Total distance 8.2 miles in 2:30
1 portage of 40 rods
Parasite Report
Black flies: I don't see a single one, but at least one found me, and on the first day, just above my right sock. It itches for over a week.
Mosquitoes: Swarms. Picaridin 20% (DEET substitute) works, as do head nets. There are many casualties, with mozzie bodies stuck all over the walls of our tents.
Ticks: Very few. Each of us gets a hitchhiker, but neither one draws blood. Other than that, we see only a handful.
Day 10 – Thursday, June 19 – Bears and unaccustomed luxury
Breakfast at Britton's is good, as always. It's blustery and we have all day, so we take a long tour of Piragis. Once again, I can't leave that place without buying something, this time a couple of books. It's Jen's first time there and I'm impressed at his self-discipline such that everything he bought fit in one bag.
I've been following the work of the Wildlife Research Institute and the North American Bear Center for several years. Since we have time, we go there and spend a couple of hours learning about the true nature of black bears and watching the antics of the bears that live in the NABC's enclosures.
Jen's wife travels a lot in her work and has enough perks for us to get a free room at the Duluth Marriott. We head south and check in, but not before seeing two moose - possibly a mother and calf - in what might be the same place we saw them on the way up. Amazing! Anyway, the Marriott doesn't don't have the room that was arranged, so they upgrade us to a suite. Imagine having spent the last 10 days sleeping in a tent, then in a bunkhouse, and then walking into a modern hotel with living room, kitchen, and two well-appointed bedrooms. I'm tempted to blow up my air mattress and sleep on the floor.
Day 11 – Friday, June 20 – Portals in the other direction
Not much to report for today. I get Jen to the airport in plenty of time, and the drive home is uneventful. I experience the usual culture shock of re-entry into the so-called "civilized" world. After living in what I call the real world, it isn't entirely welcome. It helps to just get 'er done, so I unload and hang boats, unpack most of my stuff, and make good progress in putting things back where they came from.
I'm already planning my next trip ....