BWCA - June 2011
Page 5: Days 9-10
The Last Leg
Day 9 – Tuesday, June 7 – Shooting Down to Gun
It's another granola breakfast day.
Thunderstorms come rolling in as we're packing up to leave. We get the tarp up just in time for a deluge, and wait for a gap in the rain and lightning. Tom couldn't be more delighted.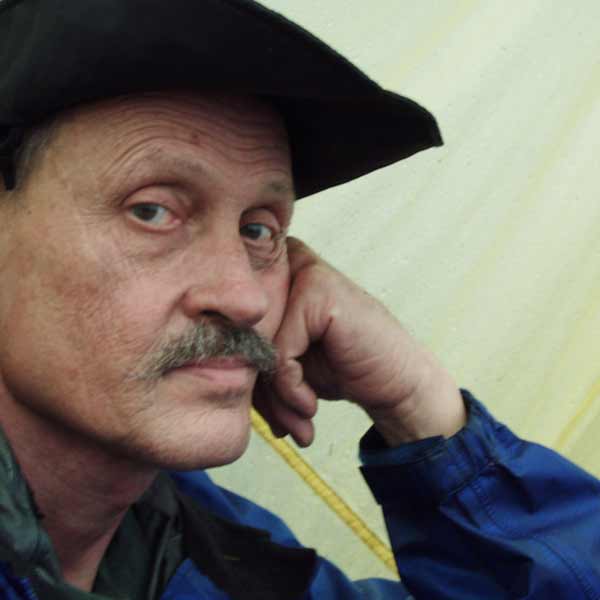 A half hour or so later the storm passes over. We finish packing, load up the boat and head south. After a mile we beach the boat and take shelter in a dense spruce thicket while another storm cell thrashes the lake. Like the earlier blast, this one soon passes, and we bail the boat and proceed. The rest of the day is very pleasant with only moderate tail- and crosswinds.
We stop and check out the campsite on Chippewa Lake (nothing to write home about) and pull over the beaver dam that's shown as a 4-rod portage. We stop for lunch at the campsite on Wagosh Lake and note that someone left behind two child's folding chairs in their carry bags. They look new, and the site obviously hasn't been used for a while; we guess that maybe someone didn't want to carry them over the mile-long portage into Gun Lake.
Speaking of mile-long portages into Gun Lake, the 328-rodder turns out to be quite enjoyable. Mostly. Tom coaches me on leap-frogging the packs, a strategy that breaks the portage down into smaller segments and offers a rest when going back for the next load. I time my carries at 5-7 minutes and it goes well. I drop my first pack at the end and go back for the second one, and I meet Tom carrying the boat; he looks pretty tired. On the way back with my second load we meet up again not far from the landing. He still looks pretty beat so I hand him my pack and go back for his. Little do I realize it's 0.6 miles back up the trail. No wonder he was tired! I'm carrying a pint of water, which helps me keep going. I get to the landing feeling pretty energetic, and by this time Tom looks and feels a lot better. We load up and head off in search of lodging for the night.
It's interesting to note that the entire portage took 1-1/2 hours - an average of 2 mph - thanks to the mostly smooth and level trail.
We get to Gun Lake, site 5 (C1992) at 5:00, tired but happy.
Tom provides a nice dinner of penne pasta with mixed veggies*, ground beef*, and spaghetti sauce*. We finish the last 5 ounces of sherry.
Dinner must have smelled good because it attracted a snowshoe hare. It's amazing how close it came, at one point within 15 feet.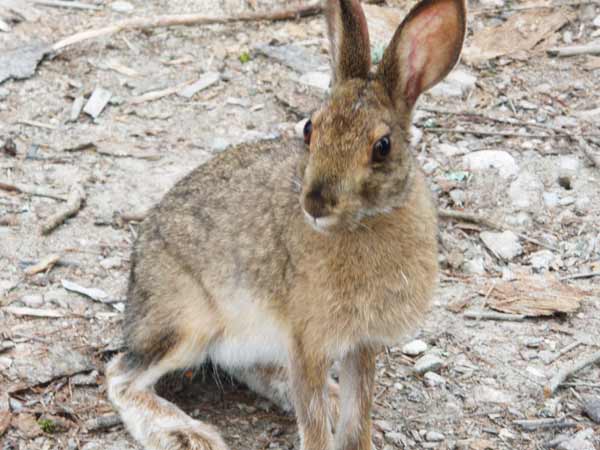 Day 9 summary:
Total distance 8.2 miles
3 portages of 510 rods and 1 pullover
Day 10 – Wednesday, June 8 – The Day of the Jackal Mountain Goat
Today is perfect - partly cloudy and cool with a nice tailwind. It's a great day for portaging - 7 in all. The first few - into Fairy, Boot and Fourtown Lakes - are uneventful. We note that they've gotten easier, and not just because there's so much less food. We conclude that these old bodies of ours have become stronger with use.
The short portage out of Fourtown is ... interesting. We approach a 15- to 20-foot high, rounded, steeply sloping rock face that looks formidable. And it is, to the several members of a scout group who somehow manage to wrangle their aluminum canoes down it. We wait while the scouts and their advisors try to corral a number of wayward items, including of the men's kayak skirt. Meanwhile, a small group of two canoes, four large and PFD-less men, and two small women get organized enough to make their way north while the scouts continue their Chinese fire drill. We finally sidle up to the side of the rock face away from them and manage the portage in a businesslike way. The scouts are still spinning around in confusion as we return for our second loads.
The next portage - known alternately as Heart Attack Ridge and Billy Goat Portage - was tough. It's only 125 rods long, but it's probably 60 rods up, 60 rods down, and 5 rods flat - every single rod being hilly, rocky and slippery. Despite being very careful, I twist my Ankle of Many Sprains (the left one) while carrying about 50 pounds. A young man behind me offers to help and I thank him but am able to continue. I figure I can just walk it out as usual, so I get to the landing and head back for my second load. That trip hurt. Before shouldering my second load I rest a bit, take a couple of ibuprofen, and flex my ankle to assess the damage. Although I'm able to carry and stay focused every step of the way across the lunar landscape, the ankle nearly rolls out from under me two or three times. But it's not too bad and gets a little better as the day goes on.
Here's a video by John Daniel, who recorded the entire portage.
The last two portages are uneventful except for a light rain and some photo ops on the way into Mudro Lake.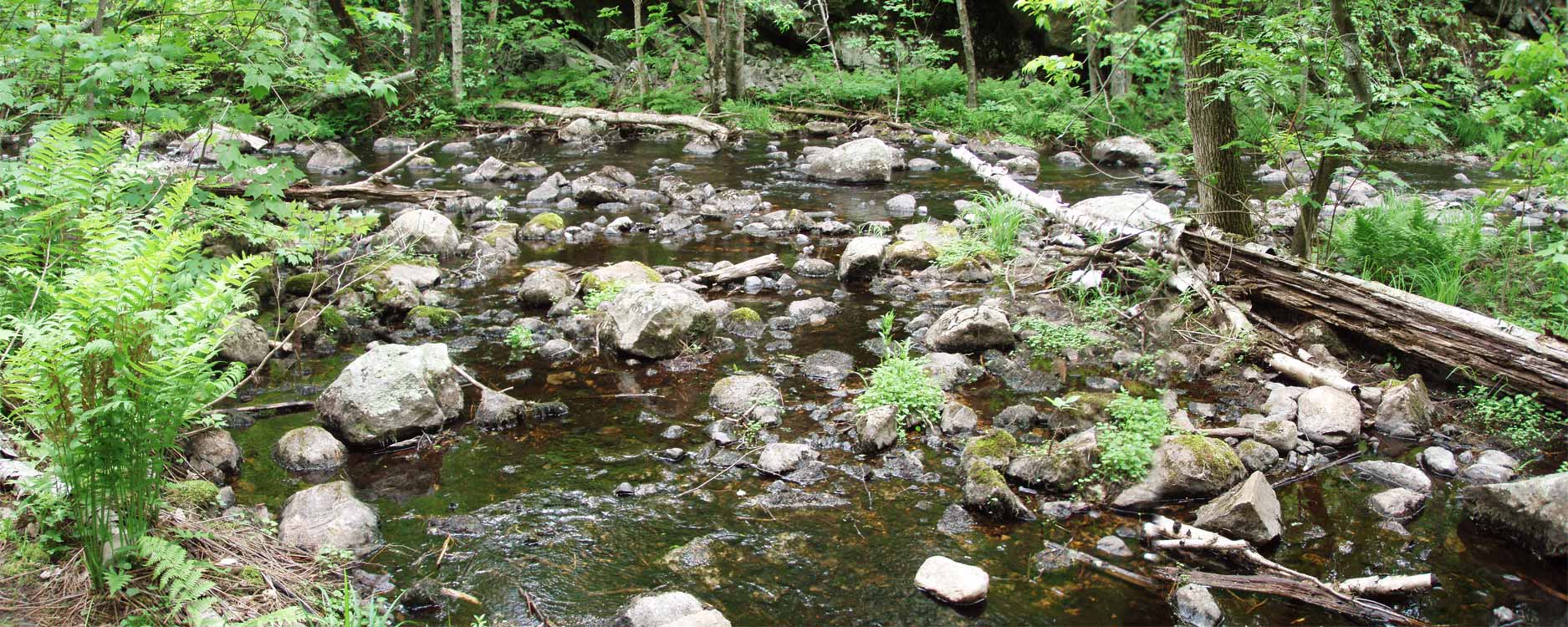 The real fun of having a waterproof camera is taking - you guessed it - underwater pictures.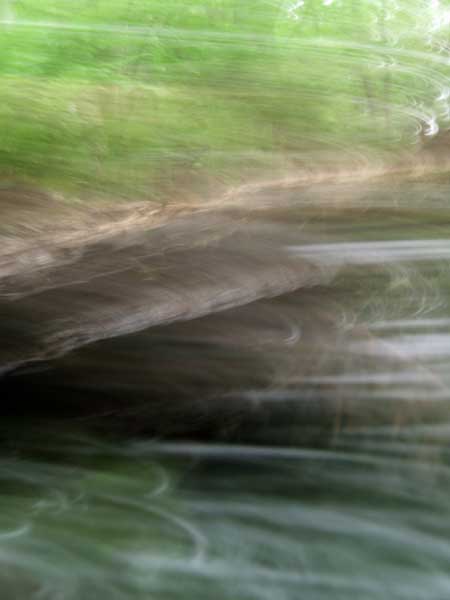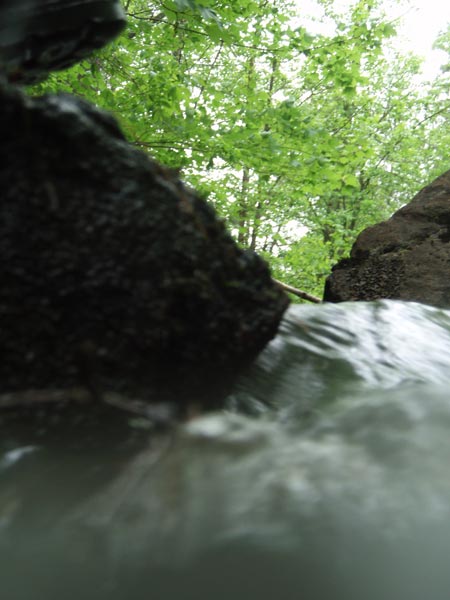 We finish the last portage, into the Mudro parking lot, with some angst about leaving this magical place.
A bumper sticker captures my mood to a T.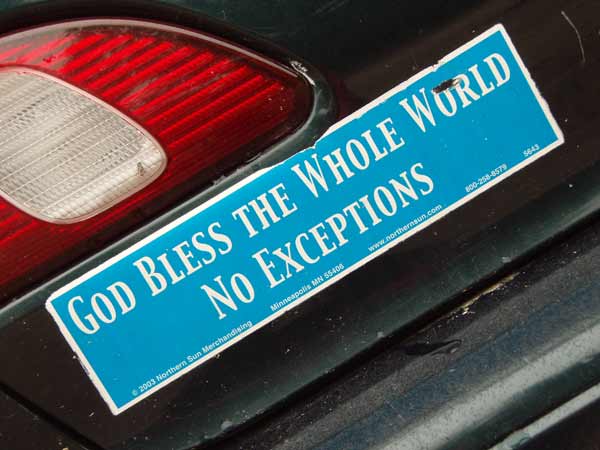 Just to prove I was there ...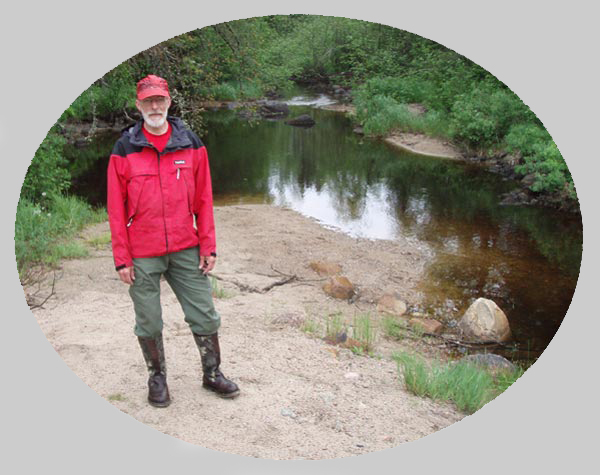 We load up and head into Ely for snacks and another stop at Piragis, then head for Duluth. We get a room and a very welcome shower at the Super 8. Tonight's dinner is at Little Angie's Cantina in Duluth - something really tasty but somehow forgotten.
Day 10 summary:
Total distance 8.6 miles
7 portages of 298 rods
Day 11 – Thursday, June 9 – Back to the (un)Real World
After a nice breakfast (blueberry pancakes) at Amazing Grace Cafe and a stop in the Duluth Pack store, we head home. Gear is re-sorted at Tom's house and I make it home in time for a nice "welcome back" dinner at a dear friend's house.
Two weeks after the trip my ankle is healing nicely. But I still haven't adapted to sleeping above the floor and walking on hard surfaces. Tom has it worse - he slept fine on his Thermarest but got such a sore back in his bed at home that he had to get a new mattress.
I look forward to the next trip, planned for September.